LONDON -- Pole vaulter Yelena Isinbayeva is taking an indefinite break but insists she will try to win a third straight Olympic gold medal at London 2012.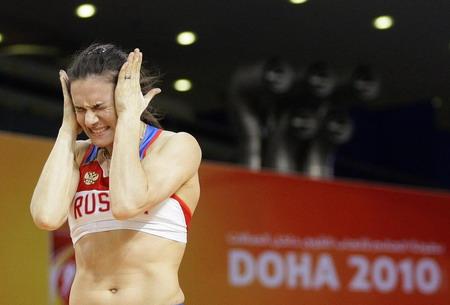 Yelena Isinbayeva of Russia reacts during the women's pole vault event at
the IAAF World Indoor Athletics Championships at the Aspire Dome in Doha
March 12, 2010.[Agencies]
The world-record holder has been considering resting since leaving the world indoor championships last month in Doha without a medal.
"A break from competing is absolutely necessary for me," Isinbayeva said in a statement on Saturday. "After more than eight years of very hard training and competing at the highest levels both indoors and outdoors each year I need to step back in order for my body to properly recover. It is my full intention to continue training and keep myself fit."
Isinbayeva, who has broken the indoor and outdoor marks 27 times, hasn't ruled out returning for the European championships in Barcelona in July.
"At this moment I cannot exactly say when I will return to competitions," the Russian said. "I have not completely ruled out the entire summer circuit or the European championships in Barcelona.
"Nothing has changed with my long term goals which includes the 2011 and 2013 world championships and the Olympic gold in London 2012."
Editor: Su Yu | Source: Agencies