Feature: Nuclear security for world peace and development
2010-04-14 14:06 BJT
Special Report: Hu Attends 2 Summits, Visits 3 Nations |
WASHINGTON, April 13 (Xinhua) -- The Nuclear Security Summit in Washington D.C. has witnessed Chinese people's sincerity to achieve nuclear security through the unremitting efforts of Chinese President Hu Jintao.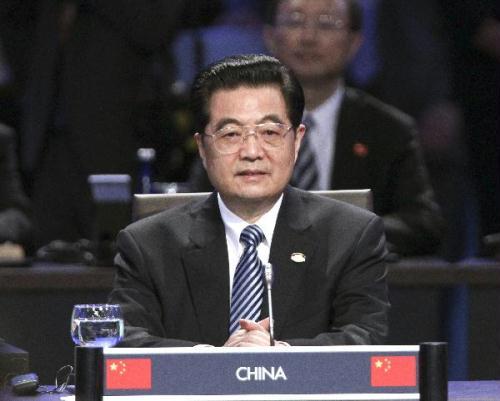 Chinese President Hu Jintao attends the first plenary session of the Nuclear
Security Summit at the Washington Convention Center in Washington, April 13, 2010.(Xinhua/Ju Peng)
Despite an exhausting 14-hour flight, the two-day summit has seen President Hu's active participation. Whether attending conferences, delivering speeches, or meeting foreign leaders, he would always detail about China's polices and practices in promoting nuclear security and international stability.
"The potential threat of nuclear terrorism cannot be neglected and the risk of nuclear material diversion and illicit trafficking is on the rise," Hu said in his speech entitled "Join Hands to Meet Nuclear Security Challenge and Promote Peace and Development" delivered at the Watler E. Washington Convention Center on Tuesday.
He called for concerted action by all countries in the world to enhance nuclear security by putting forward five proposals.
Over the years, China, a major power of nuclear energy development and a peace-loving country, has taken effective steps to ensure nuclear security and promote the peaceful use of nuclear energy.
After carrying out its very first nuclear experiment in 1964, China immediately announced to the world its commitment to not using nuclear force first under any circumstances.
Related stories