Quotable quotes from Chinese president's speech at nuclear security summit
2010-04-14 15:30 BJT
Special Report: Hu Attends 2 Summits, Visits 3 Nations |
BEIJING, April 14 (Xinhua) -- Chinese President Hu Jintao has delivered a speech at the two-day Nuclear Security Summit, calling for concerted action by all countries to enhance nuclear security.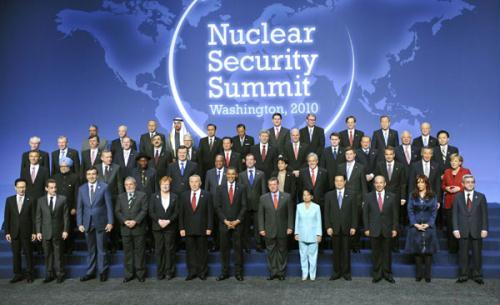 Chinese President Hu Jintao (4th R,front) poses for a group photo with other world
leaders during the Nuclear Security Summit at the Washington Convention Center in
Washington,April 13, 2010. (Xinhua/Li Xueren)
The following are some notable quotes selected from his speech:
"The potential threat of nuclear terrorism cannot be neglected and the risk of nuclear material diversion and illicit trafficking is on the rise." -- Chinese President Hu Jintao
"All countries need to honor their commitments and responsibilities by adopting effective measures to secure nuclear materials and facilities." -- Hu
"There is a need to help developing countries enhance their nuclear security capacity." -- Hu, who called for the International Atomic Energy Agency (IAEA) and the developed countries to offer greater assistance to developing countries in that respect."
"All countries should properly handle the relationship between nuclear security and the peaceful use of nuclear energy." -- Hu
"Nuclear security measures should help foster an enabling environment for peaceful use of nuclear energy by all countries and facilitate related international cooperation." -- Hu
Related stories
Editor: Du Xiaodan | Source: Xinhua