Chinese women's 100 meters champion Wang Jing has been handed a four-year suspension for doping, and her coach, Chen Hua, is banned for life on violation of anti-doping rules.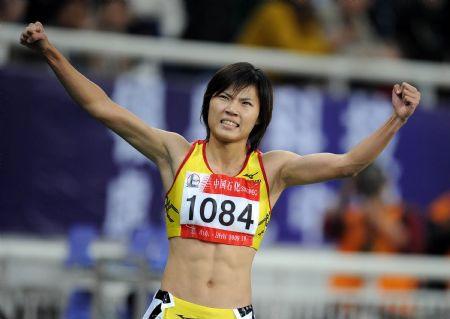 Wang Jing of Fujian Province celebrates after winning the final of women's
100m sprint at the 11th Chinese National Games in Jinan, east China's
Shandong Province, October 22, 2009. [File photo:Xinhua]
The Chinese Athletics Association (CAA) announced the disciplinary penalty for Wang and her coach Wednesday on its official Web site, and the two were each fined 20,000 yuan.
Wang, who tested positive for performance-enhancing drugs in last year's National Games, is banned effective October 25, 2009 to October 24, 2013.
The sports governing body also stripped the 22-year-old of her gold medal, and her result in the Games was thus nullified.
Wang, from the Fujian Province, won the 100-meter at the National Games with a time of 11.50 seconds, more than a second slower than the world record of 10.49 seconds.
Editor: Su Yu | Source: CRIENGLISH.com