A heavy snow carpeted Mt. Laoshan and coastal areas of Qingdao in east China's Shandong Province on Wednesday, creating a beautiful silver scene at the popular tourist spot.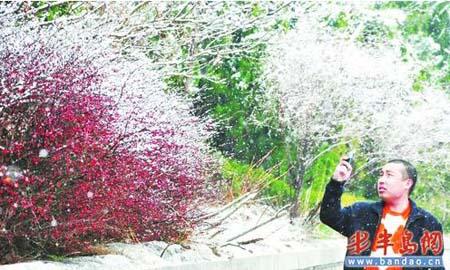 A tourist takes photos at the Jufeng Scenic Zone at Mt. Laoshan, a famous
tourist attraction in Qingdao city in east China's Shandong Province on
Wednesday, April 14, 2010. [Photo: baodao.cn]
The snowfall began at noon and lasted about three hours, Bandao.cn reports.
Employees at Mt. Laoshan say about 200 tourists have visited the snowy mountain.
"It snows on the mountain, and it rains at the bottom, which is a rare scene," said Li Deping, a climate expert from the city's weather observatory. "Many tourists came to see the beauty in the snow, with a lot of Qingdao residents drawn to the attraction by the snow."
Qingdao has not seen snow in April since 2000, Li said, adding that a current cold front was the main reason for the cold weather, frost and snow.
Related stories from Mt. Laoshan
Mt. Laoshan
Photo

With its highest peak rising 1,133 meters above sea level, Mt. Laoshan is situated on the southeastern Shangdong peninsula. Facing the Yellow Sea, it is one of China's major scenic resorts and has long held the reputation as the No. 1 Famous Mountain on the Sea. Full story >>
A Quick Glance of Mt. Laoshan

Video
Located a 30 min. bus ride east of downtown, Laoshan (Mount Lao) boasts a 2100-year-old Dao temple and is a must see for the Qingdao area. Often credited with being one of the temples that gave birth to the Dao way of thought, the Laoshan temple is tucked just between the mountains and beach. Full story >>
Taiqing Palace in Mt. Laoshan
Photo
Taiqing Palace (Taiqing gong), the largest, oldest and most impressive of the temples in Laoshan, lies to the southeast of the mountain and faces the sea.Full story >>
Occupying a land surface of 33320 sq m, the Laoshan Velodrome shines as a brand new venue for the track cycling event for the Beijing 2008 Olympic and Paralympic Games. Full story >>