The companies suffered an 8.7 percent drop in 2009 sales as the recession, the sharpest decline since 1983, took its toll and spared few industries last year, but the cost cutting, including the job cuts, more than offset that.
Wal-Mart Stores Inc, which benefited from more middle-class shoppers looking for lower-priced goods at its discount stores, returned to the top of Fortune's list, which ranks US companies by 2009 sales, after finishing second last year.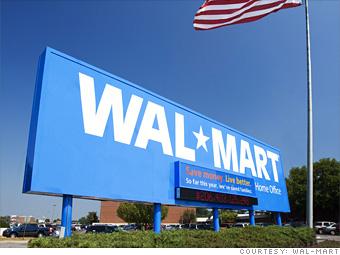 Wal-Mart: No 1
Lower oil prices last year bumped top energy companies such as No 2 ranked Exxon Mobil Corp and No 6 ConocoPhillips down Fortune's list. Exxon topped last year's list and ConocoPhillips fell from No. 4.
"By mid-2009, companies were making fewer goods with far fewer workers. A pivotal turn began midyear. Sales bottomed, then began to rise gently, as headcounts continued falling," Fortune's editor-at-large Shawn Tully wrote in an article accompanying the ranking.
The recession shook up the ranking in other ways. General Motors Co , which filed for Chapter 11 bankruptcy protection in June, fell out of the top 10 for the first time ever as auto sales slumped. Its 2009 sales of about $105 billion were barely more than one-quarter those of Wal-Mart, according to Fortune.
Home builders, contending with the burst housing bubble, were entirely absent from Fortune's list, with the last holdouts from the housing boom, Centex and PulteGroup Inc sliding off the 2009 list.
On the positive side, banks such as Bank of America Corp and JPMorgan Chase & Co bounced back from the near collapse in 2008 of the US banking system, making their way back into Fortune's top 10.
And they look set to fare well again in 2010 -- JP Morgan reported higher-than-expected earnings on Wednesday.
Another bright spot in the class of 2009 was the healthcare sector, led by drug makers such as Pfizer Inc and Merck & Co Inc. Drug companies saw profits surge by a third, according to Fortune.
For a complete list of the Fortune 500, please see: www.fortune.com/500 The print issue with the ranking will be on news stands on Monday.