WELLINGTON, April 16 (Xinhua) -- One of the largest travel agencies in New Zealand on Friday said it may take days before normal flights resume due to volcanic ash over Europe, local media reported.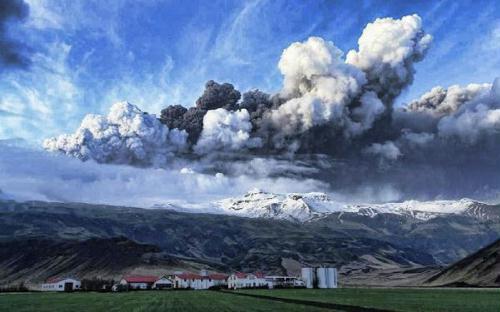 Smoke and steam hangs over the volcano under the Eyjafjallajokull glacier in Iceland,
Wednesday April 14, 2010, which has erupted for the second time in less than a month,
melting ice, shooting smoke and steam into the air and forcing hundreds of people to
flee rising floodwaters. Volcanic ash drifting across the Atlantic forced the
cancellation of flights in Britain and disrupted air traffic across northern Europe,
stranding thousands of passengers. Flights in and out of London Heathrow, Europe's
busiest airport, were halted, and the shutdowns and cancellations spread to France,
Belgium, the Netherlands, Denmark, Ireland, Sweden, Finland and Switzerland. The
volcano's smoke and ash poses a threat to aircraft because it can affect visibility,
and microscopic debris can get sucked into airplane engines and can cause them to shut
down. (Xinhua/Reuters Photo)
Flights in many countries are canceled following the eruption of a volcano in Iceland which sent a huge plume of volcanic ash into the air which can damage plane engines.
The entire airspace in Britain, Ireland, Norway, Denmark, Belgium and Sweden is closed on Friday. There are partial closures in France, Germany and the Netherlands. Finland has closed all airports except Helsinki-Vantaa.
New Zealand's House of Travel said about 4,500 clients were affected. The agency is identifying all those due to travel in the next few days and contacting them to discuss their options, Radio New Zealand reported on Friday.
House of Travel spokesman Brent Thomas said no one knew how far the volcanic ash was going to spread.
Air New Zealand flights from London to Auckland via Los Angeles and Hong Kong, which were scheduled to arrive early on Saturday ( NZT), have been canceled.
The airline said there was a high probability that two London- bound departures on Friday night would terminate at Hong Kong and Los Angeles.
Passengers are advised to defer their travel plans.
Editor: Zhang Ning | Source: Xinhua