YUSHU, Qinghai, April 16 (Xinhua) -- Chinese Premier Wen Jiabao pledged not to give up while there is hope after flying to Yushu from Beijing Thursday afternoon, a day after a major earthquake hit the highland area.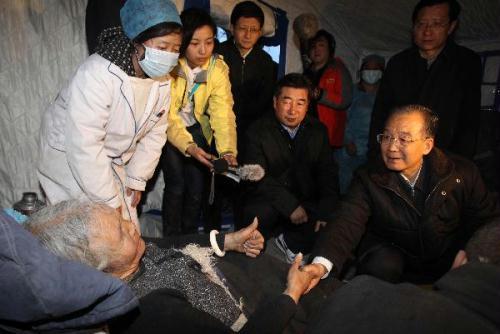 Chinese Premier Wen Jiabao (R) visits a Tibetan woman in Yushu, northwest China's
Qinghai Province, April 15, 2010. Wen arrived here on Thursday to inspect the disaster
relief work and visit quake-affected local people. (Xinhua/Fan Rujun)
After landing in Yushu in northwestern Qinghai Province, which has an average altitude of 3,700 meters, Wen rushed to a village near Jiegu Township, Yushu Tibetan Autonomous Prefecture, where most of the houses in the village collapsed.
He scrambled over cement rubble to check on the rescue work and expressed his appreciation to the rescuers working hard in search for survivors.
The 7.1-magnitude earthquake killed 760 people and injured more than 10,000, with 243 still missing.
At a collapsed building in Jiegu Township, the Premier met a group of locals worrying about their missing relatives.
"The central government shares your pain. Your loss is our loss. We mourn together," Wen told them.
The top priority is saving lives, he said, adding that the government has dispatched rescuers with more to come.
"Even when there is only the slightest hope, we will do our best, and we will never give up," he said.
About 7,500 rescuers working in Jiegu Township have saved about 6,900 people. Another 2,500 rescuers are on their way.
Wen later visited a school, orphanage and hospital in the town.
Related stories