MOSCOW, April 16 (Xinhua) -- An official from the Kyrgyz interim government said Friday that they had received the original resignation statement from the country's ousted president Kurmanbek Bakiyev.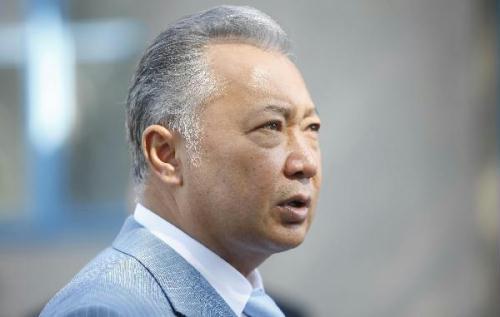 File photo taken on July 23, 2009 shows then Kyrgyz President Kurmanbek Bakiyev
speaks to the media at a polling station in Bishkek, Kyrgyzstan. Kyrgyzstan's interim
government said early April 16, 2010 that Bakiyev has signed a formal resignation
statement and stepped down. (Xinhua/Lu Jinbo)
Edil Baisalov was quoted by Russian news agencies as saying that the interim government leader Roza Otunbayeva was given the original statement of Bakiyev's resignation during her meeting with the Kazakh ambassador to Kyrgyzstan and the representative from the Organization for Security and Cooperation in Europe (OSCE).
"Roza Otunbayeva met with a special envoy of the chairman-in-office of the OSCE and with the director of the OSCE center in Bishkek, who handed her an envelope with the original copy of Bakiyev's letter of resignation," said Baisalov at a press conference in Bishkek.
Bakiyev on Thursday left Kyrgyzstan for the neighboring Kazakhstan, and was said to have submitted his letter of resignation via fax to the interim government.
"Fully aware of my responsibility for the future of the people in these tragic days, and for Kyrgyzstan's integrity, I resign in compliance with Article 50 of the Constitution," said Otunbayeva late Thursday quoting the statement.
Earlier, one of Bakiyev's brother Ahmad said the statement was a fake. "The question on his (Bakiyev's) resignation has not yet been raised" in the negotiations between the two sides, said Ahmad.
Neither of the two sayings have so far been confirmed by Bakiyev himself.
Last week, thousands of protesters clashed with security forces throughout the country, driving out local governments and seizing government headquarters in Bishkek. The opposition parties formed an interim government, following Bakiyev's fleeing to the south.
Latest figures from the health ministry put the death toll of the riots up to 84.
Related stories
Editor: Zhang Ning | Source: Xinhua