Defending world champion Jenson Button led his teammate and British countryman Lewis Hamilton to deliver a one-two finish at the rain-hit Chinese Formula One Grand Prix in Shanghai on Sunday.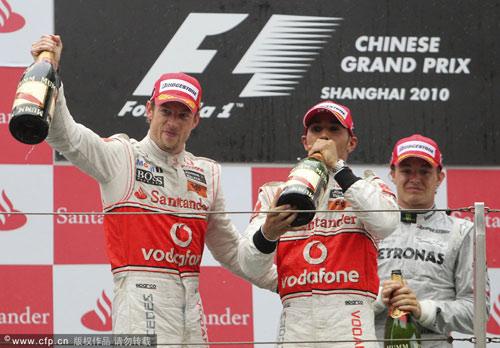 McLaren finished one-two in the 2010 Formula One Chinese Grand Prix in Shanghai on
Sunday.
The 56-lap, 5.45-km race was affected by a changeable rain. And the safety car led the opening laps after Force India driver Vitantonio Liuzzi lost control of the car and crashed with two other cars.
Button started fifth on the grid but managed to take the second place thanks to some leading drivers' early pit stop decisions, as the rain seemed to be heavier shortly after the race started. However, the decision of changing tyres turned out to be unwise, as it began to fair soon.
Button remained in the runner-up position before outpacing leader Nico Rosberg from Mercedes in the 19th lap. The 30-year-old Briton held the lead till the end, in spite of another safety car deployment and two pit stops to deal with the tricky raining whether.
Lewis Hamilton was among those who made the wrong decisions of switching tyres. But the world champion in 2008 managed to make up the loss with his fast speed and exquisite driving technique, jumping from the 16th to the 2nd, hitting the line 1.530 seconds after Button.
Rosberg produced the second podium performance in a row after ending up third in Malaysia GP two weeks ago.
Ferrari's Spanish driver Fernando Alonso seized the fourth place, although receiving a drive through penalty due to jumping start to take the lead in the beginning of the race.
Pole-sitter Sebastian Vetter and teammate Mark Webber went through another disappointing weekend as the Red Bull pair wasted the front row lockout and only finished sixth and eighth.
Lengendary seven-times world champion Michael Schumacher, coming back from a three-year retirement, was still struggling to find his form, finishing 10th in the Shanghai International Circuit.
The Renault duo Robert Kubica and Vitaly Pertrov did a good job by managing a fifth and seventh finish on Sunday.
Felipe Massa, the drivers' leader on the championship standings before the race, only ranked 9th in Shanghai, surrendering the leading position to Button, who got 60 points after lifting the second trophy of this season.
Related stories
Editor: Su Yu | Source: Xinhua