YUSHU, Qinghai, April 20 (Xinhua) -- Stoves, coal and overcoats are being sent to the quake-hit Tibetan Autonomous Prefecture of Yushu in northwest China's Qinghai Province following the forecast of a cold snap in next three days.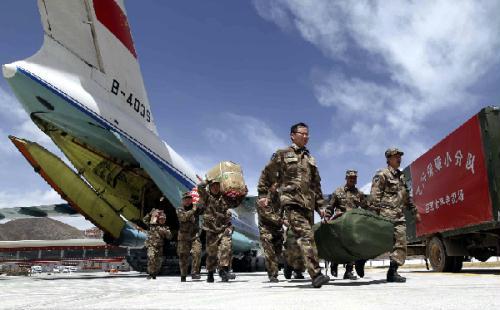 Members of the night navigation support group help to convey relief materials at the
Yushu Airport in Yushu, northwest China's Qinghai Province, April 18, 2010.
(Xinhua File Photo/Liu Yinghua)
The high-altitude region had light snow since 5 p.m. Monday and would see light to moderate snow and sleet between Tuesday and Thursday, with temperature falling up to ten degrees centigrade, said Tsering Tashi, deputy chief of the Yushu Prefecture Meteorological Bureau.
Twenty thousand coal-burning stoves would be sent to Yushu, which also has been receiving 700 tonnes of coal each day since Sunday, said a spokesperson of Qinghai Civil Affairs Department.
Yaojie Coal Electricity Group Co., Ltd of neighboring province of Gansu has decided to donate 200 tonnes of coal to the quake zone, the spokesperson said.
"There will be a lot of thunderstorms in Yushu in May, so 100 lightning rods will be installed at major resettlement areas," said Tashi.
He added that local people would be taught how to avoid being hurt by lightings.
Yushu's rainy season starts in June, and heavy rainfall might trigger landslides. "As soon as such threats are detected, we will alert the quake relief headquarters," said Wang Shen, deputy director of Qinghai Provincial Meteorological Bureau.
The 7.1-magnitude quake, which struck Yushu Wednesday, has left 2,039dead, 195 missing, 12,135 injured, including 1,434 severely hurt, according to Tuesday's official tally.
Editor: Zhang Ning | Source: Xinhua