WASHINGTON, April 20 (Xinhua) -- U.S. space agency NASA said on Tuesday it will delay space shuttle Discovery's return to earth for a second time due to bad weather at the landing site in Florida.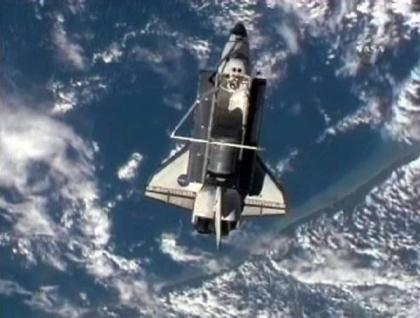 The space shuttle Discovery undocks from the International Space Station
Saturday and heads home after a mission to install a new ammonia tank
and deliver experiments and other gear. (Xinhua/Reuters Photo)
NASA will try again to land Discovery at the Kennedy Space Center in Florida at 1308 GMT Tuesday, or at the backup landing site, the Edwards Air Force Base in California, at 1301 GMT.
Discovery had been scheduled to land at the Kennedy Space Center on Monday after a resupply mission to the International Space Station. But landing was delayed until Tuesday morning due to cloudy weather around the landing site.
Discovery delivered eight tons of supplies and equipment to the station, including spare bunks for the occupants of the space station, a large tank of ammonia coolant and seven racks filled with science experiments.
Related stories
Editor: Zheng Limin | Source: Xinhua