Four days after the April 14 Yushu earthquake, movie star Jackie Chan stood in a makeshift orphanage in Yushu and cheered up the children.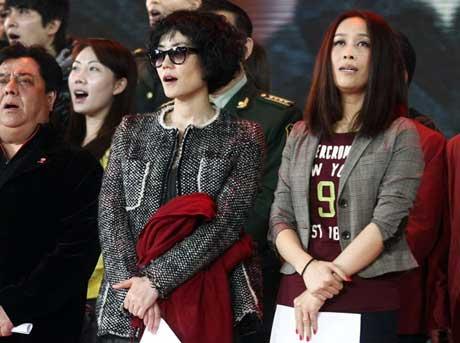 Faye Wong and Na Ying (front) perform along with other celebrities during a
televised fundraiser held by China Central Television on April 20, 2010.
[Photo: yule.sohu.com]
Besides a 3-million-yuan donation, Chan also brought 100 boxes of mineral water, 700 items of clothing and 1,500 boxes of biscuits.
"Almost all the houses are unlivable. Some of them are still standing, but the walls are cracked inside. I asked people if there was anyone trapped under a particular house, but they had no idea. I really wish I could be a superman and lift the debris up all on my own. At this moment, I feel so useless. But I know there are many people offering help and I will definitely come back again."
Actor Jet Li arrived in quake-hit Yushu on April 16. As well as bringing more than 10 trucks of food and clothing, he also brought over a hundred volunteers - including four psychologists and one accountant.
"I was abroad when the earthquake happened, but I have an excellent team, the One Foundation. They put together four rescue teams and gathered materials in Xining. Since I arrived in Yushu, our foundation has received 42 million yuan from around the world. I am proud of the online donors because about 65 percent of the money has come from them. Our accountant will make sure every penny is used to help Yushu, just as the donors desire."
From April 15 to 18, singer Han Hong showed up in the Lama Temple in Beijing to collect money for the victims in Yushu. Since she is a judge of the ongoing China Central Television Youth Singing Competition, she has to record every afternoon. As a result of this timetable, she decided to hold charity events every morning.
"Actor Deng Chao and actress Sun Li were the first ones to call me. They said they would contact my team and donate money. They are really good people. Every time I hold this kind of event, they are always the first ones."
As of April 20, Han Hong has collected nearly one and a half million yuan. As a celebrity, she hopes her efforts can attract more people's attention and highlight the issue of Yushu.
"One person is not enough. Even 10 celebrities are not enough. We need everyone's help. We should not give up our courage and strong spirit. We have conquered the Sichuan earthquake; we will stick together and win this battle as well."
To collect money for Yushu, China Central Television held a special charity program this Tuesday. During the three and a half hour show, viewers donated more than 2.1 billion yuan. Over 300 celebrities performed at the event, including singer Faye Wong, magician Liu Qian and actress Zhang Ziyi. A special feature of this event was that there were no solo performances. All the acts were group presentations, and no names appeared on screen. Comedian Zhao Benshan personally donated 2 million yuan.
Editor: Liu Fang | Source: CRI