BEIJING, April 22 (Xinhuanet) -- NASA's recently launched Solar Dynamics Observatory (SDO) is returning early images of solar activities, according to media reports Thursday.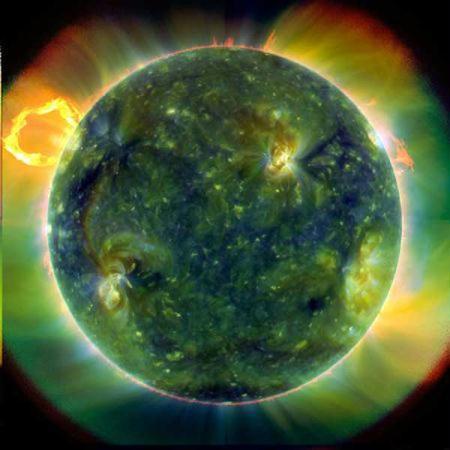 A full-disk multiwavelength extreme ultraviolet image of the sun taken by
SDO on March 30, 2010. False colors trace different gas temperatures. Reds
are relatively cool (about 60,000 Kelvin, or 107,540 F); blues and greens
are hotter (greater than 1 million Kelvin, or 1,799,540 F). (Photo: NASA)
Launched on Feb. 11 this year, SDO was designed to predict disruptive solar storms.
These early images confirm an unprecedented new capability for scientists to better understand our sun's dynamic processes, said experts.
"These initial images show a dynamic sun that I had never seen in more than 40 years of solar research," said Richard Fisher, director of the Heliophysics Division at NASA Headquarters in Washington.
"This mission will have a huge impact on science," Fisher commented.