SAN FRANCISCO, April 22 (Xinhua) -- Microsoft Corp. on Thursday reported that its revenue in the most recent quarter rose about 6 percent year-on-year as demand for the software giant's Windows 7 operating system remained strong.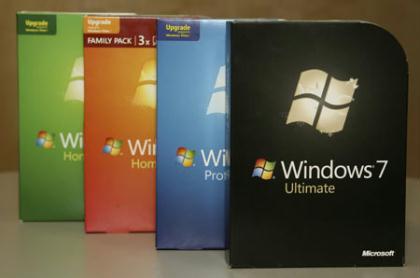 Copies of Microsoft Windows 7 are displayed in Redmond, Washington,
Oct. 22, 2009. (Xinhua/Reuters Photo)
For the quarter ended on March 31, Microsoft posted a revenue of 14.5 billion U.S. dollars, compared with 13.64 billion dollars in the same period a year earlier.
Profit jumped to 4.01 billion dollars or 45 cents a share, representing increases of 35 percent and 36 percent respectively from the year-ago quarter.
According to Microsoft, its Windows business revenue was up 28 percent in the quarter, driven by continuing strong demand for Windows 7, which was released in October in 2009.
More than 10 percent of all personal computers worldwide are now running Windows 7, making it by far the fastest-selling operating system in history, Microsoft said.
"Business customers are beginning to refresh their desktops and the momentum of Windows 7 continues to be strong," Kevin Turner, chief operating officer at Microsoft, noted in a statement.
"Windows 7 continues to be a growth engine, but we also saw strong growth in other areas like Bing search, Xbox LIVE and our emerging cloud services," said Peter Klein, the company's chief financial officer.
Editor: Zheng Limin | Source: Xinhua