SEOUL, April 24 (Xinhua) -- The body of a missing sailor was found in the bow of the sunken Navy warship Cheonan, which has been pulled out of water by the Navy and a civilian salvage team on Saturday, according to local media.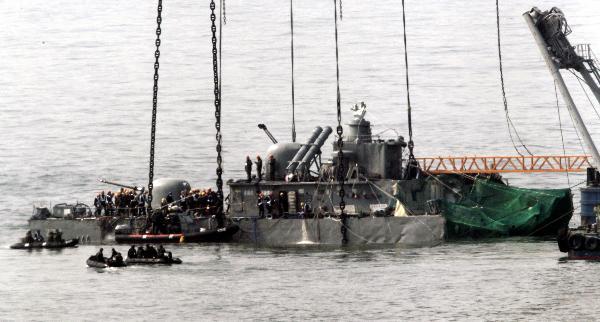 Workers using a giant offshore crane salvages portion of the sunken South Korean naval ship Cheonan
off Baengnyeong Island, South Korea, Thursday, April 15, 2010.(Xinhua/AFP, File Photo)
The body, yet unidentified, was found in the second floor underneath the forward deck of the ship's bow, Seoul's Yonhap News Agency quoted a military official as saying.
So far, there were a total of 40 sailors have been confirmed dead after the 1,200-ton frigate, with 104 crew members onboard, went down off the South Korean island of Baekryeongdo off the west coast due to an unexplained explosion that split it in two on March 26. Fifty-eight sailors were rescued alive and six still unaccounted for.
Salvage teams used large floating cranes to lift the bow above the surface, and placed it on a barge after the water inside was drained.
The families of the missing crew members watched the salvage operations from a barge nearby, according to media.
The frigate's stern, where the bodies of 38 sailors trapped inside, was salvaged from the water on April 15.
Editor: Zhang Ning | Source: Xinhua