by Xinhua writers Wang Yongkang, Wang Xiangjiang and Wang Fengfeng
WASHINGTON, April 25 (Xinhua) -- The World Bank and the International Monetary Fund (IMF) ended their Spring Meetings here on Sunday, with a solid step in the long-expected voice reform, a cautious note on exit strategy and a call for global cooperation amid uncertain recovery prospects.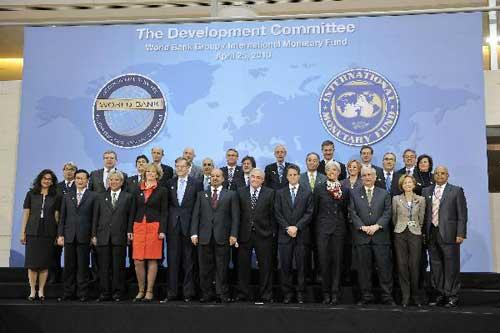 Members of the Development Committee take part in the group photo during the
IMF/World Bank Spring Meetings in Washington, capital of United States, April
25, 2010. (Xinhua/Zhang Jun)
STRIDES IN VOICE REFORM
The meetings approved a plan to increase the developing countries' voting power in the International Bank for Reconstruction and Development (IBRD) by 3.13 percentage points to 47.19 percent, representing a total shift of 4.59 percent to developing and transition countries since 2008.
The move marks "important strides of increasing the voice and influence of developing countries at the World Bank Group," World Bank President Robert Zoellick said at a press conference.
"The endorsement of the shift in voting power is crucial for the bank's legitimacy," he added.
As a result of the shift, China's voting power has now increased to 4.42 percent from 2.77 percent, the third biggest after the United States and Japan.
Brazil's voting power has risen from 2.06 percent to 2.24 percent, and India from 2.77 to 2.91.
The meetings also approved a capital increase of 86.2 billion U. S. dollars for the IBRD, including 58.4 billion dollars in general capital increase and 27.8 billion dollars in selective capital increase.
By increasing its legitimacy through the voice reform and rebuilding its capacity through the capital increase, the World Bank will strengthen its efficiency, effectiveness and accountability to help the world battle the current crisis and meet future challenges, a communique issued at the end of the meetings said.
COUNTRY-SPECIFIC EXITS
The meetings concluded that the global recovery has been encouraging and better than expected, but cautioned that recovery has been uneven. It called for country-specific exits from stimulus measures.
IMF Managing Director Dominique Strauss-Kahn told a press conference on Saturday that the recovery has been faster in Asia and more sluggish in other parts of the world.
"We will continue to work to phase in country-specific exits from stimulus, recognizing the diverse pace of recovery and potential spillovers across countries and regions," the IMF's policy-steering body, the International Monetary and Finance Committee (IMFC), said in a communique issued after its meeting.
The communique echoed a Friday statement of the G20 finance ministers and central bank governors, who said stimulus measures should be maintained in economies where growth is still highly dependent on policy support until the recovery is firmly driven by the private sector and becomes more entrenched.