Watch Video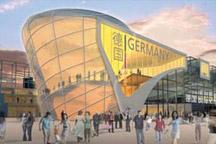 Play Video
The German Pavilion has also been attracting throngs of visitors since Expo Park began its test run. With "baLANcity" as its theme, the pavilion seeks a balance between urban development and nature, but as we see in this next report, it still pursues state-of-the-art innovation.
Long queues had formed before the pavilion opened at nine thirty on Sunday morning. Organizers say its the largest German pavilion in the history of any World Expo. Some visitors took snapshots even before they entered the main hall.
Through a time tunnel... and making their way through a bubbling sea world... visitors can enter the main hall of the pavilion. In all, the Pavilion has four exhibition zones, with the first one displaying how the country is planning future cities. While another zone exhibits products of significance in German history that have greatly improved people's life. They are the combination of technology, novel ideas in their time, and eco-friendly materials.
Pavilion visitor, said, "It shows the country's strength in manufacturing. Their economy in using energy and their concern for environmental protection."
In this zone, all the objects hung from the ceiling are moving. This area revolves around the idea of future technology.
But the biggest highlight is a huge, interactive, metal ball in an area called "resource of power." The ball uses cheers from the crowds as the power to move. When the cheers are loud enough, the ball can sway up and do circular movements.
The ball has a diameter of 3 meters, weighs 1.5 tons, and contains 400-thousand LEDs. Its audial control system enables it to respond to voices.
Related stories