Authorities are trying to persuade people to break with traditional ways of dealing with the dead
Sharp-eyed travelers on the railroad from Beijing to central Henan province will notice several barren grave mounds scattered across the fresh green wheat fields alongside the track. Some stand alone, while others are in clusters, but all are graced by a pine tree or a headstone.
"The mounds are just like pimples dotted on a girl's face. It's a kind of deep-rooted tradition in the area to bury people in their fields. However, this means graves not only occupy arable land, but also pose a threat to crop safety," said Yang Hu, director of the department of funerals and burials at the civil affairs bureau in Zhengzhou, Henan.
In urban areas, people mainly choose to purchase plots in cemeteries to store the ashes of the dead. A report published last year by Ouzi, an industry analysis and data service company, said the average cost of a funeral can reach 80,000 yuan ($1,273) in Beijing's urban areas, consisting of the cost of a plot, the funeral service and a feast.
The price of a plot of less than 1 square meter can be between 30,000 and 70,000 yuan, depending on location, size, the direction in which it faces and the material used to make the gravestone and monuments.
The report also indicated a pressing need to persuade people to abandon traditional funeral methods to save space.
Every year, about 3 million burial plots are added nationwide, while more than 4.5 million bodies have been cremated annually since 2014. Ouzi estimates that all the available plots will be occupied by mid-2022, roughly 18 months earlier than predicted by the Ministry of Civil Affairs in a 2014 report.
Last year, there were about 64.7 million plots, and 42.2 million of them were already occupied, the company said.
Sun Shuren, a professor at the Beijing College of Social Administration and also a standing member of the China Funeral Association, said all lives are equal and the balance of resources and the environment between generations should be guaranteed. That means people should save land for their descendants to achieve a sustainable society.
In 2016, the concept of "green funerals" was officially initiated and clarified in a guideline issued by the Ministry of Civil Affairs and eight other ministries and bodies, such as the forestry administration.
By "green", they mean funerals that not only save land, but are pollution-free. Scattering ashes at sea, storing them in cells in walls or scattering them near trees, grass and flowers are considered green funerals.
Biodegradable casket
On Saturday, a 58-year-old retired office worker in Zhengzhou who only gave her name as Chen, attended a free communal tree burial in a city suburb organized by the local government and Fu Shou Yuan Cemetery. More than 300 people, representing 90 families, buried the ashes of family members under saplings.
Chen dug a 50-centimeter-deep hole, and then placed a biodegradable casket containing the ashes of her parents-in-law inside. Then, she planted an evergreen privet next to the spot.
There were no monuments or headstones, but each plot was marked with a tree. Later, the names of the dead will be recorded on a list on a monument at the forest entrance.
"My husband and I agree with this eco-friendly funeral. We don't mind whether the names of the deceased are engraved on a tombstone or if their ashes are kept forever - they are always in our hearts. We can join online memorials on the cemetery's website, which will help us to avoid being caught in traffic jams near the cemetery during Qingming (aka the Tomb Sweeping Festival, on which Chinese people pay tribute to their ancestors)," Chen said.
According to the contract she and other participants signed with the local civil affairs bureau, in five years, when the ashes have degraded, the trees will be relocated and the land will be developed for new burials.
In recent years, a growing number of people in China, especially in urban areas, have embraced green funerals as local governments promote eco-friendly burials.
According to a target set in a guideline by the Ministry of Civil Affairs, by 2020, 50 percent of funerals in China every year will be green ceremonies.
The number of people from Beijing opting for burial at sea rose from 1,704 in 2014 to 2,675 last year, the Beijing Funeral Service Center said.
Meanwhile, the provincial funeral association in coastal Zhejiang province said relatives of people who choose sea burial are given 5,000 yuan to 15,000 yuan by the local government,
"In the old days, little concrete or cement was used in China. However, nowadays, these non-biodegradable modern materials are popular as materials for building cemeteries, and our ancestors lie in perpetuity via these 'immortal' monuments and coffins," said Sun, the professor.
Li Shilong, deputy general manager of Beijing Babaoshan Etiquette Co, a State-owned enterprise that provides services for 11 cemeteries, said extracting rock and other materials from quarries to make tombstones and monuments not only wastes energy, but is also a misuse of recyclable land.
"Born into nature, the best choice for the body is to return to the Earth and eventually merge with it. Cement and stones block the way back. Some established customs and practices used in traditional funerals need to be changed to form a more ecological society," he said.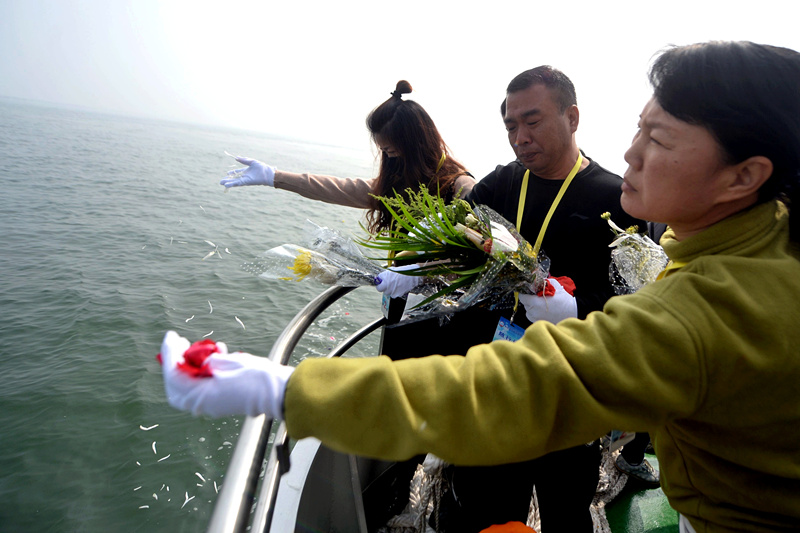 Beijing residents scatter the ashes of relatives into the Bohai Sea from the first boat in China to specialize in sea burials. Wei Tong / For China Daily
Environmental benefits
However, green funerals are still in their infancy in China because most people still prefer traditional burials in cemeteries.
Data supplied by the Beijing Civil Affairs Bureau show that just 3 percent of people in the capital choose sea burials, while Yang Hu, the funeral director from Zhengzhou, said only a few people per 1,000 in the city opt for tree burials.
Zhu, 81, a retired senior engineer at the railway bureau of Zhengzhou who preferred not to give his full name, took his son's ashes to the tree burial on Saturday. Zhu's son died in 1996 at age 33, and after keeping the ashes at home for more than two decades, he and his two remaining sons decided to return them to nature.
When discussing his own funeral, Zhu said the environmental benefits of green funerals mean he supports the practice, but he will still buy a conventional plot in a graveyard.
"My parents were buried on Mangshan Mountain, south of the Yellow River. I want to be with them after death. My pension means I can afford a tomb, and I will arrange my funeral in advance," he said.
Ingrained attitudes
In rural areas, it is difficult to change ingrained attitudes toward farmland as a burial site, because tradition says the body should be fully respected and only by being buried can the dead rest in peace.
The task facing promoters of green funerals was underlined by a video of an extreme burial that went viral online in 2016. In the clip, 64 men in traditional yellow clothing are seen singing and parading through the streets in Zhangjiakou, Hebei province, and carrying a highly decorated coffin.
Commenting on the video, a local civil affairs official told Legal Daily that Zhangjiakou has many mountainous areas.
That means the land is unsuitable for cultivation but easily accommodates burials, so the popularity of interment hampers the promotion of green funerals.
"The villagers find it difficult to accept cremation, let alone green funerals which require the scattering of ashes," he said.
Sun, the professor in Beijing, said it will take a long time to change age-old customs.
"The move from traditional tombs to burying ashes under a tree or at sea, which means not keeping the ashes, will be a gradual process that could take generations. In my opinion, keeping ashes in the walls of funeral homes would be an important transition method."
Li Hongbing, deputy chief of the Beijing Bureau of Civil Affairs, said the city government will adopt a gradual approach and will not enforce green burials.
"What we can do is to encourage and persuade. We must ensure that people make their own choices. It is a matter of custom and tradition, after all," he said.