By CCTV.com reporter Tom McGregor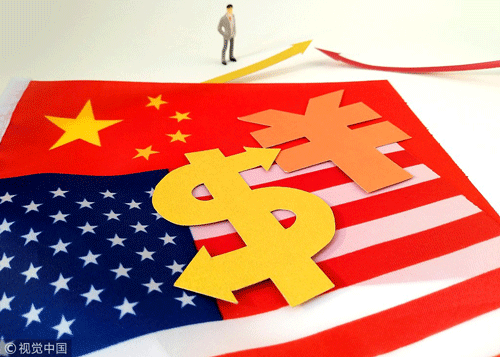 Sometimes when dark days arrive, we feel a sense of loss and alienation. For the past few months after Chinese President Xi Jinping and US President Donald J. Trump had met face-to-face in Buenos Aires, Argentina to attend the G20 Leaders' Summit, both heads of state had agreed to a bilateral trade truce in which neither side would raise tariffs on each other for the next 90 days.
Although the truce required both nations to reach a trade agreement before the deadline of March 1 this year, the U.S. and Chinese trade officials had made such remarkable progress and it was agreed to extend the truce so Beijing and Washington could reach consensus on a win-win trade deal in the near future.
Even as March turned into April while May just turned the corner, a spirit of optimism had prevailed as President Trump continued to remind the public that he was very happy with trade talks and he believed that he and Xi were to sign a trade agreement between the two world's largest economies, which would usher in a new age of peace and prosperity for China-US relations.
But alas, the good tidings were shattered when Trump took to Twitter, on the evening of May 5, to claim Beijing was trying to"renegotiate the deal"and he decided to raise tariffs on US$200 billion of Chinese imports from 10 percent to 25 percent, starting May 10.
Just like a shot across the bow, the entire world was shocked by Trump's message and so it seemed the trade truce has abruptly ended and there's no light at the end of the tunnel.
Nevertheless, the US and China have not entered a point of no return. Instead, the urgency and resolve for supporters of a China-US trade agreement to act more resolute, stay united and to keep working at overcoming perceived misunderstandings should continue marching forward.
Being stubborn is not the solution. Washington may think refusing to offer any concessions to Beijing at this moment is a smart move, but the zero sum strategy is wrong-headed. Why would President Xi be expected to sign a deal with Trump, unless he believed China could receive some benefits for his nation in return?
Imposing demands, ultimatums and threatening to derail the Chinese economy will only make the Chinese feel stronger with patriotic sentiments and they will stay supportive of President Xi. Perhaps Trump had underestimated the firm resolve of the Chinese people and if so that in turn can turn the tide as the White House discovers that the bullying approach is not an effective method to negotiate trade deals with China.
Accordingly, it's not time to lose hope but to have faith that both China and US can still find ways to work together and to meet halfway on a US-China trade deal, even if it takes longer than anticipated.
By carefully reviewing incidents that had led to the current impasse between Beijing and Washington, one could conclude that huge misunderstandings had caused the rift and when certain individuals from Washington had over-reacted that could have led to disastrous results.
Fortunately, Chinese trade officials have not permanently shut the door on China-US trade talks, but they will not surrender either.
Trump loves the "Art of the Deal" but to get two parties to sign a contract both sides need to feel like winners. A China-US trade agreement can only succeed if both Americans and the Chinese can feel like winners. Trump can only accomplish that by allowing for some concessions supported by Beijing. A trade war benefits nobody.