New law covers domestic waste management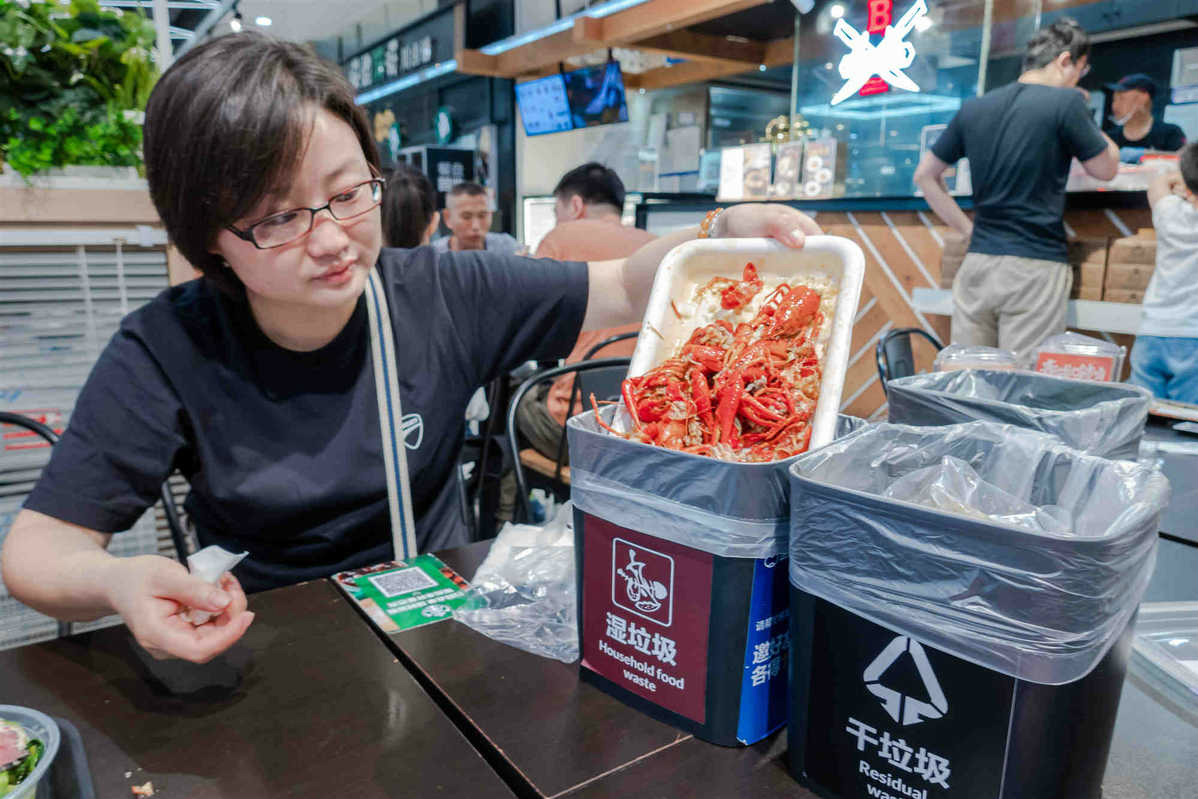 A customer sorts trash at a seafood diner in Shanghai on Sunday. [Photo by Wang Gang/ For China Daily]
Alizee Buysschaert, a Belgian living in Shanghai, has received many messages about trash sorting in the past month.
Buysschaert, founder of Zero Waste Shanghai, a company that provides consultancy and workshops on waste management, said, "Almost everyone I talk with asks me about trash sorting, including my clients, friends, expats and Chinese — from Guangzhou to Beijing. Even last night when I was in a bar, I heard people talking about how they should sort their trash. When I first came to Shanghai in 2014, people were not fully aware of the trash issue and everything went into one bin, but things change so quickly."
She has since bought a trash-sorting educational kit and designed activities for her clients to help educate them.
Trash sorting has become key not only for specialists, such as Buys­schaert, but for all Shanghai residents, through a municipal regulation covering domestic waste management that took effect on Monday.
The regulation, which was voted on and passed by city legislators in January, requires every household and institution to sort their trash into four categories — recyclables, kitchen waste, hazardous waste and residual waste.
A fine of 200 yuan ($30) will be imposed on individuals who do not comply. For errant companies, the fine can rise to as high as 50,000 yuan. A reward initiative was also launched in which people will receive points when they dispose of trash in a designated area and during set times. The points can be used to buy household necessities such as tissues and soap.
On Sina Weibo, the issue of trash sorting has attracted more than 50,000 posts and 70 million views, but enforcement of the regulation has sparked mixed feelings among the public.
Some people praised Shanghai for being a role model in taking the initiative to solve the trash problem in ­megacities, while others complained about the inconvenience the regulation has brought to their daily lives, and made jokes about sorting their trash.
One of the most popular jokes goes: "Think about pigs before sorting your trash — things pigs can eat go to kitchen waste, things pigs don't eat are residual waste, things pigs might die from while eating them are hazardous, and things that can be sold for money to buy a pig belong to recyclables."
Xiao Guiyu, deputy director of the Standing Committee of the Shanghai Municipal People's Congress, said, "Although it's a joke, it sums up the principle of trash sorting in a simple way that everyone can understand." As for the complaints about inconvenience, the legislator stressed that the new regulation is a law, and just like traffic regulations, people have to learn to obey it as long as they live in Shanghai.
A man throws recyclables into a bin at the Bund, a riverside scenic spot in Shanghai, on June 30, 2019. [Photo/VCG]
Model practice
Long before the regulation took effect, many districts in Shanghai had started a trash-sorting program, and good practices from pilot districts were copied and spread across the city.
Disposing of trash in a designated area during a set time is a practice implemented citywide by the Shanghai Landscaping and City Appearance Administrative Bureau.
Wang Cai was hired as a trash-sorting monitor in Gaojing town, Baoshan district, by a local sanitation company in 2017. In the past two years, Gaojing has selected 10 neighborhoods to pilot trash sorting, and Wang was among the first monitors assigned to these areas.
"At the time, we had to sort the trash placed by residents in bins and educate them," she said. "Back then, people were not so cooperative, and some even mocked us, saying: 'Why bother sorting the trash? Sorted trash is still trash'.
"We told them sorted trash can be used more efficiently — kitchen waste can become compost, residual waste can be incinerated to generate electricity, recyclables save our natural resources," Wang said.
She noticed that people's attitudes changed gradually, especially in the months after the law was passed. "Now, people see me as an expert and ask me when they don't know what category an item of trash belongs to," she said. "They greet me with kind words for my work, and I have never felt so proud of doing my job."
In addition to monitors from the sanitation company, local volunteers also play a role. Since June, Zhu Yinglei, Party chief of Gonghe No 3 Village subdistrict, and other local volunteers have visited trash-disposal points in neighborhoods every day from 6:30 am to 8:30 am and 6 pm to 8 pm.
Zhu said they check whether residents have separated their trash correctly, adding that the relationship formed between the volunteers and residents created peer pressure, which helped people to change their behavior and form new disposal habits.
She started recruiting volunteers in March, but at first no one applied. "There was a lack of confidence among people back then. Many thought this trash-sorting program would just be a short-lived movement. Later, some senior Party members took the lead and now we have 25 volunteers, but it's still not enough," Zhu said.
Correct transportation arrangements also play a key role. Li Zhongjie, deputy manager of the Gaojing Environment Sanitation Co, said it is running at full capacity. "We get more bins of kitchen waste every day," said Li, adding that the company will recruit more employees and use special trucks to ensure that trash is transported separately.
"If people see sorted trash being dumped into the same truck, they will be discouraged and won't take the program seriously anymore," he added.
Wang Yiqi, an office worker at an internet technology company in Shanghai, said that although he supports the trash-sorting program, the disposal times are not good for people such as himself who live alone and often come home after 8 pm.
"I strongly hope the times can become more flexible after people have learned how to sort their trash," he said.
A number of activities aimed at telling people how to sort their trash correctly have been held in Shanghai. Schools have organized visits to a domestic treatment museum, and companies held trash-collection activities. Talks on trash sorting were staged in communities.
On June 21, Wu Peimin was among 1,000 employees who took part in the L'Oreal China Citizen Day themed on trash sorting and low-carbon travel. Participants were divided into small groups and asked to take public transportation to different points in the city and to play a game to learn about trash sorting.
An activity that aims to raise public awareness of the importance of waste sorting is held in Shanghai in March. [Photo/VCG]
"Previously, classification was a little confusing for me, especially when I was traveling to Japan and South Korea, where I had a hard time dealing with my trash." Wu said. "But I have learned many tips about sorting trash today, and I'll be a better traveler in future."
Zhu Weiqing, a publicity officer in Gaojing town, wrote a song about trash sorting and shot a music video that has received thousands of views online.
"There are already many posters and flyers about trash sorting, so we want to be more creative," he said. The song calls on everyone to do their part in protecting the environment in Shanghai.
Earlier this year, the city published textbooks on trash sorting for kindergartens, elementary and middle schools.
Zhang Yong, associate professor of environmental sciences at East China Normal University and an editor of the textbooks, said he has given numerous lectures on trash sorting at schools, companies and institutes since last year.
"I found that adults have more doubts over trash sorting than children. They say it is too difficult to learn and question the classification criteria," he said. "However, children already have a lot of knowledge about trash sorting, and many see it as something they should do naturally, just like brushing their teeth.
"Some children told me that when they go home, they supervise their parents on trash sorting, just like their parents oversee them doing their homework."
Zhang suggested the authorities should provide the public with more feedback on the results and benefits of trash sorting. "People need to see the social benefits arising from their efforts, so that their enthusiasm can be maintained," he added.
Precious land
The 24 million Shanghai residents produce 28,000 metric tons of domestic every day, and the city's major landfill facility at Laogang, which is spread over 30 square kilometers — about the size of Macao — has operated for more than three decades.
"Land in Shanghai is so precious that we have to change our old habit of dumping freely to enable more waste to be recycled and burned instead," Zhang said.
Shanghai is not alone in fighting the battle against trash disposal and changing people's bad habits, as sorting has been accelerated nationwide, according to the Ministry of Housing and Urban-Rural Development.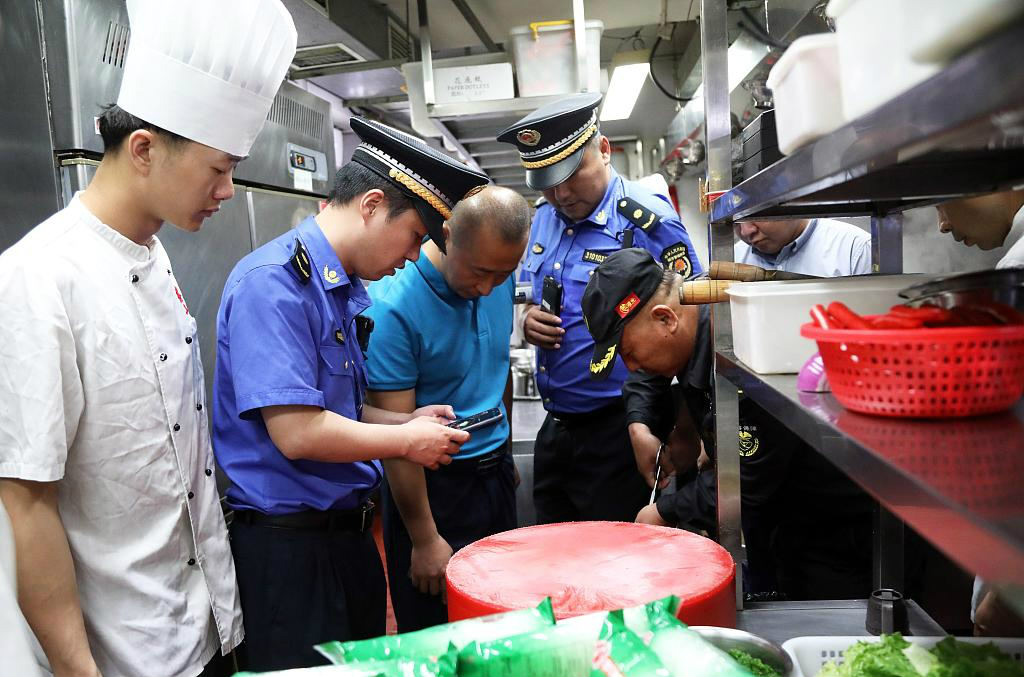 Law enforcement officers inspect the waste sorting at a restaurant in Shanghai on Sunday. [Photo/VCG]
On June 6, the ministry said that cities at prefecture level and above would start full domestic waste classification work this year. In addition, 46 major cities should set up a system to classify and dispose of household by next year, and cities at prefecture level and above should have this system in place by 2025, the ministry said.
Sun Xinjun, director of the Beijing Municipal Commission of Urban Management, said in a television interview aired on June 18 that the capital would revise its waste management regulation to underscore individual responsibility for sorting domestic waste.
Huang Rong, deputy secretary-general of the Shanghai Municipal Government, said the city has received many delegations from other provinces and regions to learn about its experiences.
"As President Xi Jinping said during his visit to Shanghai last year, waste sorting is a 'new fashion'," Huang said. "It is Shanghai's responsibility to set an example in trash-sorting management for the whole nation," he added.
Zou Yunkai, a freshman student at Shanghai Lixin University of Commerce, said that every day he sees news about trash sorting posted by his classmates on WeChat.
"Trash sorting hasn't started in my hometown yet," said Zou, who is from Jingdezhen, Jiangxi province. "But it's good to learn about it here in Shanghai."