The Spanish Supreme Court a week ago sentenced nine Catalan separatist leaders to prison terms of between nine and 13 years for sedition and misuse of funds linked to the Catalan independence referendum on Oct. 1, 2017, which was declared illegal by the Spanish Constitutional Court.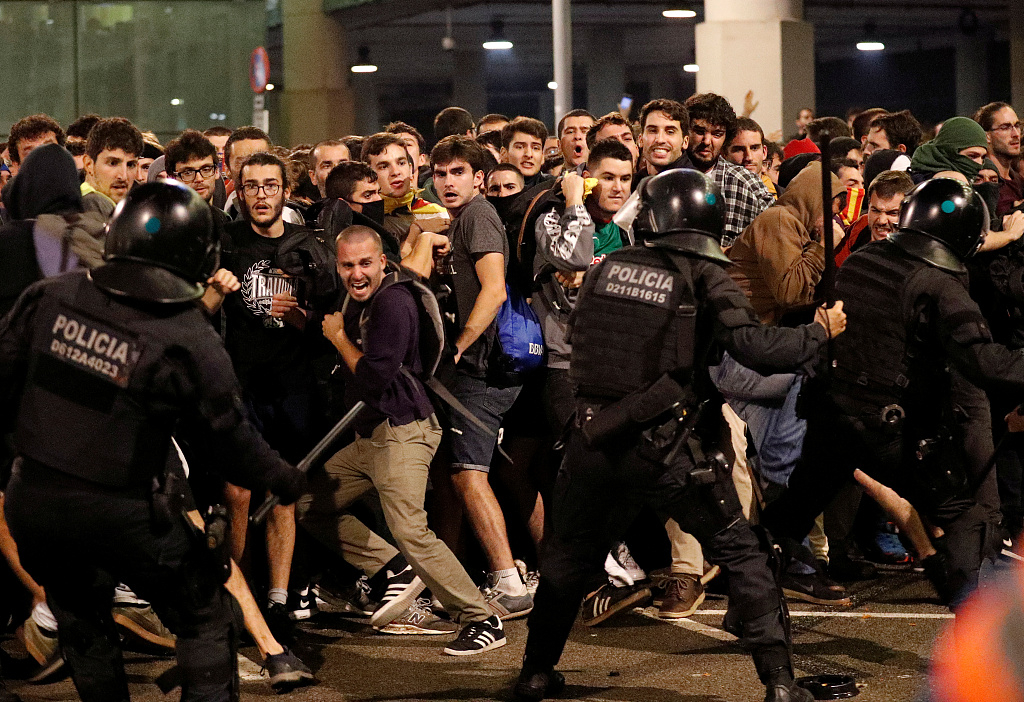 Protesters clash with police officers as they demonstrate at the airport, after a verdict in a trial over a banned independence referendum, in Barcelona, Spain, October 14, 2019. /VCG Photo
Since then, there have been ongoing violent protests and hundreds of arrests in Barcelona.
Spanish Home Affairs Minister Fernando Grande-Marlaska warned of heavy sentences of up to six years in prison for those arrested, saying the government was "going to apply the penal code with all of its strength against the violent separatism which attacks the law."
In contrast to the support shown for the Hong Kong riots, western governments and media have for the most part kept silent on the ongoing Catalan situation.
Gavin Newlands, a member of the Scottish parliament, said on his Twitter account that "as of 0707 there was still nothing on the events in Catalonia last night on BBC News. But there is a piece on Hong Kong politicians shouting in Parliament."
M D Nalapat, an Indian scholar from Manipal University, commented in an article published in the Pakistan Observer that "there are moments when silence is shameful, and this is what is happening in the wake of the Madrid Court showing a contempt for the very European values that Brussels prides itself on."
The way media organizations from western countries address the issues in Hong Kong and Catalonia shows the double standards that are applied in interfering in other countries' internal affair to suit their own interests. There seems to be a western media blackout on the Catalonia situation due to concerns that the violent acts will spread out to other places. Whereas in Hong Kong, they are thinking and doing the complete opposite. They put up the pretense of "wishing the best for Hong Kong," but are actually secretly hoping for the riots to escalate and hinder China's development.
However, history has proven that their double standards will not help maintain their interests, and will backfire on them. With the latest protests in other part of the world, it is apparent that violent acts by radical Hong Kong protesters are being copied by people in western countries. Apart from the separatist acts in Spain, radical environmentalists from western countries have also staged "Extinction Rebellion" protests in over 20 cities around the world, with some of their strategies and methods reportedly coming from Hong Kong protesters.
As much as the rule of law is respected and valued in western countries, no country that governs with law will allow situations similar to that of Hong Kong to happen. Those countries which help fan the violence in Hong Kong are hurting themselves and will be crushed by their own weight.