By CCTV.com reporter Zhou Fujing
When you come to a city for the first time, every street can be an interesting site, and taking a bus to visit is a good option.
I went to Yinchuan, the capital city of Ningxia Hui Autonomous Region in September. I was well prepared and had my cell phone fully charged.I left for the city from Beijing and the flight took less than two hours. The plane flied above the mountains. It was a good day with great visibility, ideal for capturinglandscape.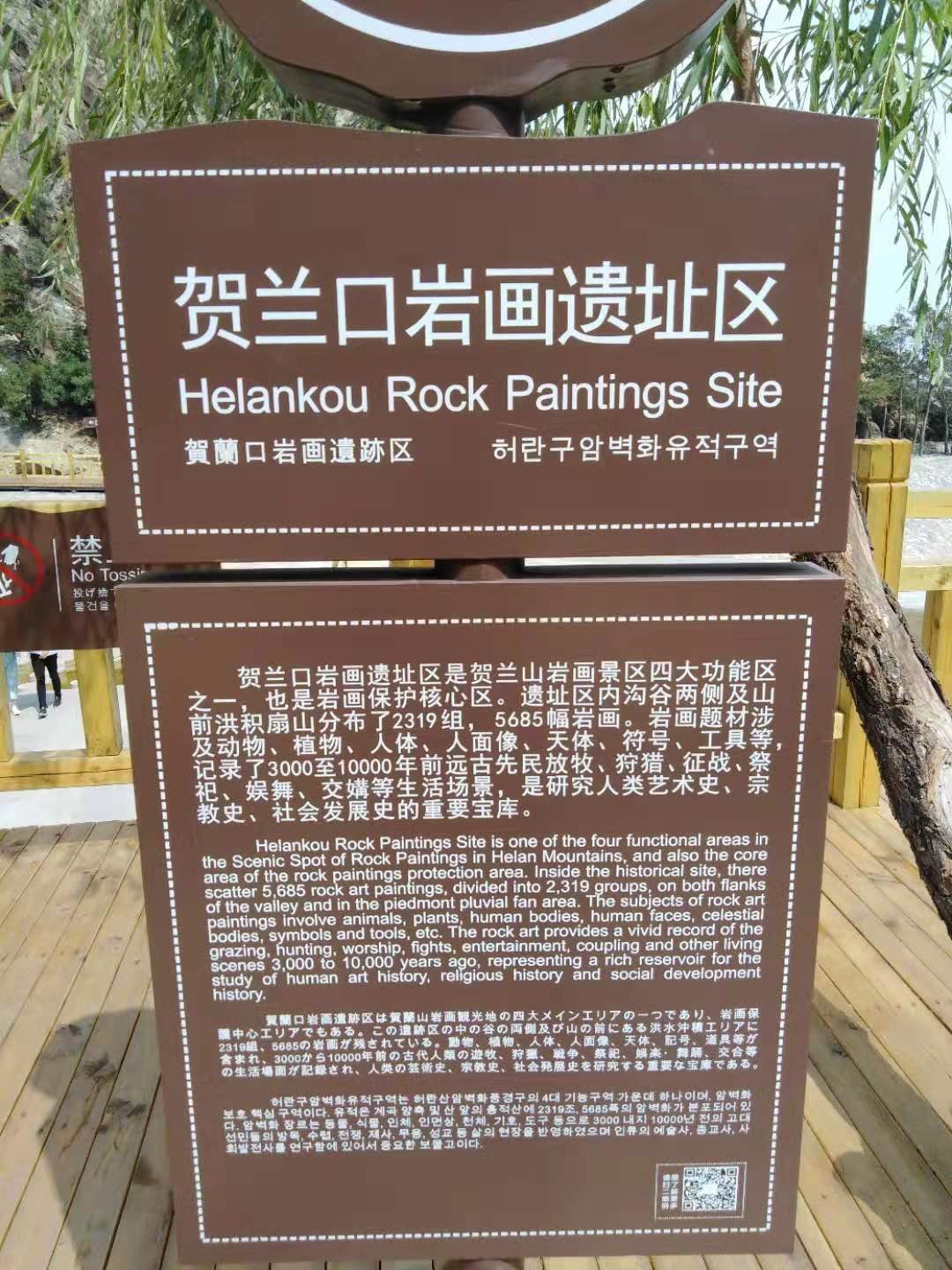 Helan Mountain Rock Carvings
Yinchuan, not a large city, is divided into the Old Town and New Town. It has several well-known tourist sites, such as Huangsha gudu (Yellow Sand Ancient Ferry) and Shapotou, sites for viewing vast desert scene; China-Arab Axis, a two-kilometer-long axis in Yuehaiwan CBD, which is flanked on both sides by Arabic style structures. I strongly recommend Helan Mountain, famous for its rock carvings. It is particularly suitable for those who are interested in the life and activities of ancient China. And it is convenient to arrive there.
The Yinchuan Municipal Government has attached great importance to develop tourism. It has cooperated with the local Liuliu New Energy Company to offer electric sightseeing buses for visitors to get there. The buses started its trial operations in August this year and are free of charge. Passengers can wait for the bus at the bus stops along Beijing Road. The bus departs from downtown and stops at major tourism sites in northwest of Yinchuan, including the wine chateau, Zhenbeipu Film Studio, Suyukou Forest Park and Helan Mountain. The earliest bus departing from downtown is 8 a.m. and the interval between two buses is about an hour.
Helan Mountain is a natural barrier extending 250 kilometers from north to south, which divides Inner Mongolia and Ningxia. The western slopes are gentle and smooth, connecting Alashan Plateau while the east slopes are rugged and steep, overlooking the Yinchuan Plain.
I was lucky that a local person felt happy to be my tour guide. After arriving at Helan Mountain, we first visited the Yinchuan World Rock Art Museum. It is indeed a world of rock art. Rock carvings in provinces and autonomous regions in China and across the world in different periods are displayed and explained in Chinese and English.I stayed at the museum for an hour and continued my trip to see the actual imagescarved on rocks left by ancient nomadic tribes.
Images on rocks were drawn in various styles with profound connotations. Dating back to some 6,000 years,they depict animals, plants, hunting scenes, wars among tribes, faces and figures. Among the animal paintings, there are running deer, blue sheep, tigers and leopards, duckbills, and flying birds. The mountain is a place rich in old rock arts.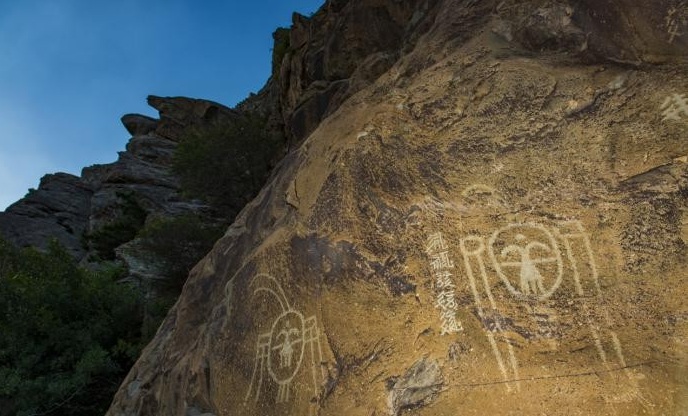 The carvings are not as clear as what we can see in photos or on TV. Some images are blurred due to getting exposed to rain, snow and sun for thousands of years. Some are meticulously fixed or restored by craftsmen. The local guide said tourists are not allowed to touch the carvings as it would cause damage. Several thundershowers fell, but soon, the sun came out and shone brightly. I was surprised to find out that different from other parts, carvings remained dry and they were not affected by the thundershowers.
A red flag erects on the east slope of the mountain, below which, several stones construct the rough image of Apollo, an image of special significance. It is composed of 24 light beams, 12 pieces of hair, 6 brows on each eyelid and carries important information about time, solar terms, or years.
The images carved on the rocks are the last remnants of nomadic tribes living on the steppes. They provide valuable materials for the study of the ways of life, religions, farming, husbandry, hunting, and astronomy of various ethnic minority groups in ancient China.