By CCTV.com reporter Zhou Fujing
The day "November 11" has no difference for me, but it does mean difference for many millions of Chinese consumers and the Alibaba Group, China's e-commerce giant.The November 11, 2019 has passed for a week, and how many parcels have you received so far and how many are still on the road?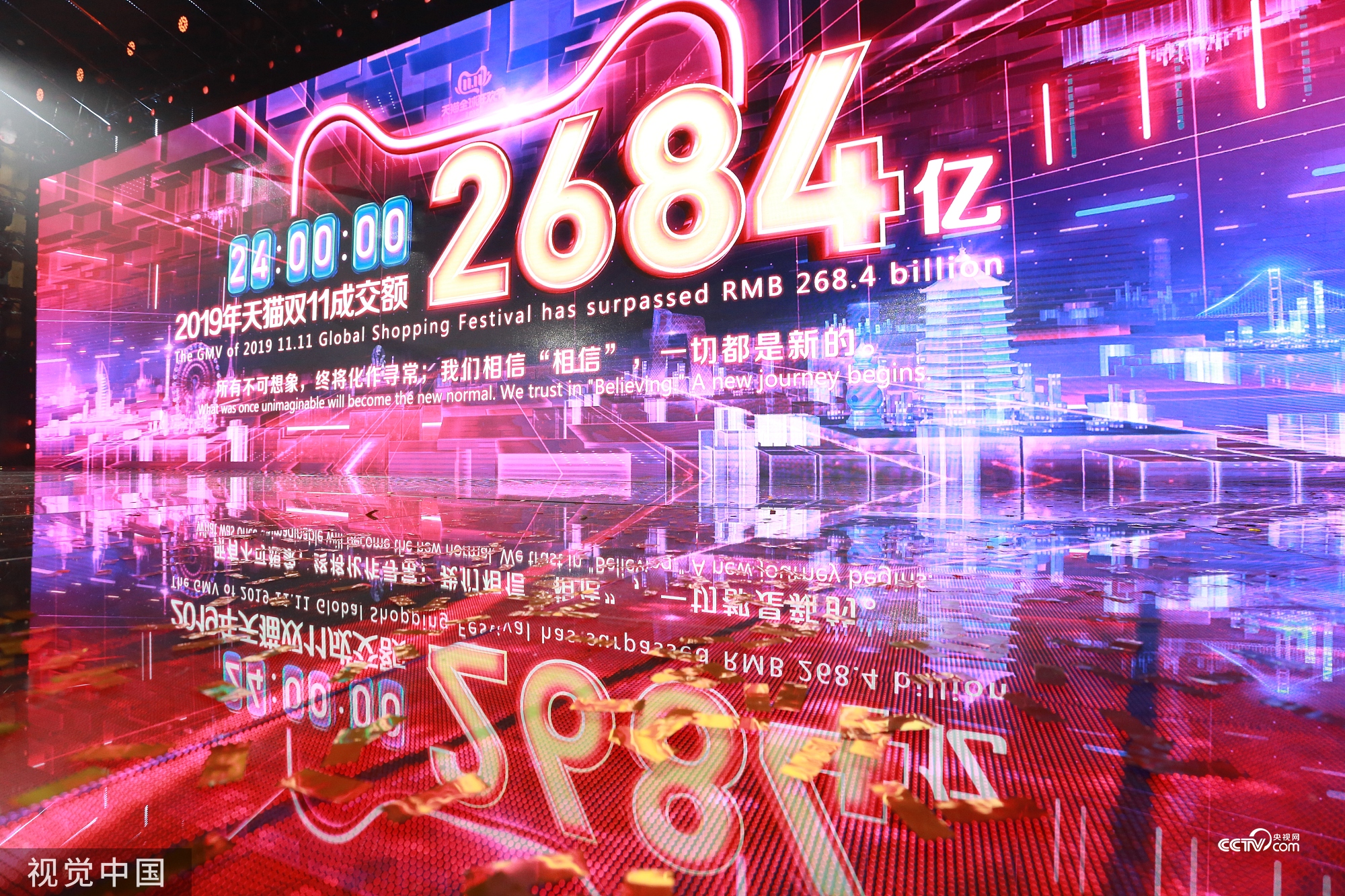 Huge success for Alibaba
November 11, known as the "Singles' Day," has already become the largest shopping day on the planet. Since 2009, Alibaba Group started marketing it as the best day of the year to go crazy on its shopping websites.
The 11th shopping carnival began at midnight of November 11, 2019. The day's first 68 seconds saw the first billion yuan sales. It took only 63 minutes and 59 seconds for Alibaba's sales to hit 100 billion yuan (US$14.3 billion). After 24 hours of frenzied buying and selling, the Alibaba Group announced that the platforms, including Tmall and Taobao, sold goods worth 268.4 billion yuan (US$38.4 billion) on the day, the highest sales record on Singles' Day until now. Electronic gadgets and fashion items were among the most sold goods, the company's executive said. Alibaba's cloud computing system, Aliyun, was processing 540,000 transactions per second at one point in the morning. Alibaba Group's sales totaled US$30.8 billion within 24 hours on the day in 2018.
Alibaba Group has been dedicating to developing platforms for both domestic and international customs. Tmall which sells goods from global brands to China and Taobao that sells Chinese brands' goods to people in China are two frequently-used online retailers popular. Beside, AliExpress sells goods from Chinese brands to international residents and Lazada, a subsidiary of Alibaba Group, caters to Southeast Asian markets. Alibaba keeps expanding.
Frenzy shopping day for women and men
It is a crazy day. Many Chinese stayed up late until midnight, in order to get more coupons and enjoy more discounts. They paid for goods in the "shopping cart" and expected the delight of opening one and another parcels. Were they crazy? They lost their rationality and bought many items they do not need at the moment. Alibaba expanded the number of discounted items in this year's event and put a heavy emphasis on livestreaming via its platforms to help sell goods. Majority of goods are allowed to be returned to sellers if the buyers don't like. Usually, a week later, a wave of goods return would emerge on account of the quality, the size and any other reasons. Wow!
Alibaba announced over 200,000 domestic and international brands took part in, with over one million new products to go on sale. All was attractive. Many joined the carnival just for fun, for discounts and lower-price goods, without thinking about their practical demands. There were so many discounts available, which made consumers feel that he/she had to buy something, or he would be missing out.
But, do you really need them? The answer would be "no" to a substantial number of consumers. People love stocking up on household goods in particular, buying a year's worth of shampoo or toilet tissues. Do you know how much I spent that day? None. I bought nothing. I buy only when I need. I do not care too much about the discounts and coupons. I hate stocking up goods.
Test of China's express delivery service
After the frenzy shopping, China's express delivery faces the severe test though the delivery speeds have improved over the years. It took about 9 days to deliver 1 billion packages in 2013 but the time shrunk to around two and a half days in 2018, according to Alibaba's network Cainiao, which works jointly with eight other delivery companies six years ago. In October 2019, the Alibaba Group announced it was investing an additional US$3.3 billion to work with the logistics unit Cainiao to improve the delivery service. Alibaba, which was criticized for harming environment by shipping an estimated 1 billion packages in a single day, enjoined its logistic arm Cainiao to set up recycling centers at 75,000 locations and it will pick up used boxes and wrappings.
Last, the US-China trade war didn't impact Chinese people's enthusiasm for shopping. Whether a trade agreement will be signed within this year, or will be reached in the next year, it will not destroy Chinese's ability in purchasing. It is a benefit brought by the huge population.