By CCTV.com reporter Zhou Fujing
Over the past several decades, China has witnessed tremendous changes in payment methods.
Let's review the payment methods that bear the marks of era.
Variety of coupons used in Shangqiu, Henan Province from 1960–1980s.
1960s–1980s: grain coupon + cash
China issued liang piao (literally "grain coupon), such as food coupons and cloth coupons, to limit consumption due to a lack of supplies. "Coupons" are an important vehicle, known as "the second currency." People were required to show coupons when purchasing rice, flour or edible oil.
1980s-1990s: cash payment+bank card
After the reform and opening up in 1978, the shortage of materials had been eliminated, announcing the end of the "coupon era." In the 1980s, "cash" became the main payment method and wallet became the essential item for going out. Everyone had a way to identify the authenticity of renminbi (RMB, people's currency). But, it was not safe and convenient for large transactions.
In 1985, the Bank of China issued the first bank card and Chinese have one more payment method. A payment is conducted by typing the password of the bank card and signing the receipt.
RMB, the cash, is evolving as well. People's Bank of China issued the first series of RMB banknotes on December 1, 1948. The third series issued in 1962 used multi-color printing technology and used hand-engraved printing plates for the first time.In October 1999, the People's Bank of China began to issue the fifth series, to celebrate the 50th anniversary of the founding of People's Republic of China (PRC). It is the currency that has been used until now.
In the 21st century: mobile payment
The emergence of the smartphone and Alipay, WeChat Pay and other mobile payment methods has greatly changed people's lifestyle. We can use a smartphone to complete payment so long as it is bound with a bank card.
Alipay, a network high-tech company established in 2004, launched the cellphone payment service in 2008. It further started the the business to scan a quick response (QR) code to pay in 2011. 2011 was a remarkable year. As of October of the year, the 3G users in China reached 110 million, mobile phone users achieved 964 million; They brought huge development potential and laid the foundation for mobile payments.
In August 9, 2013, WeChat released the 5.0 edition and launched the WeChat pay, a challenge and competitor to Alipay.
At 5 a.m., February 18, 2016, "Apple Pay," a new method affiliated with iPhone, was available in China mainland. Within 12 hours since its launch, Apple pay had registered 38 million bank cards to it.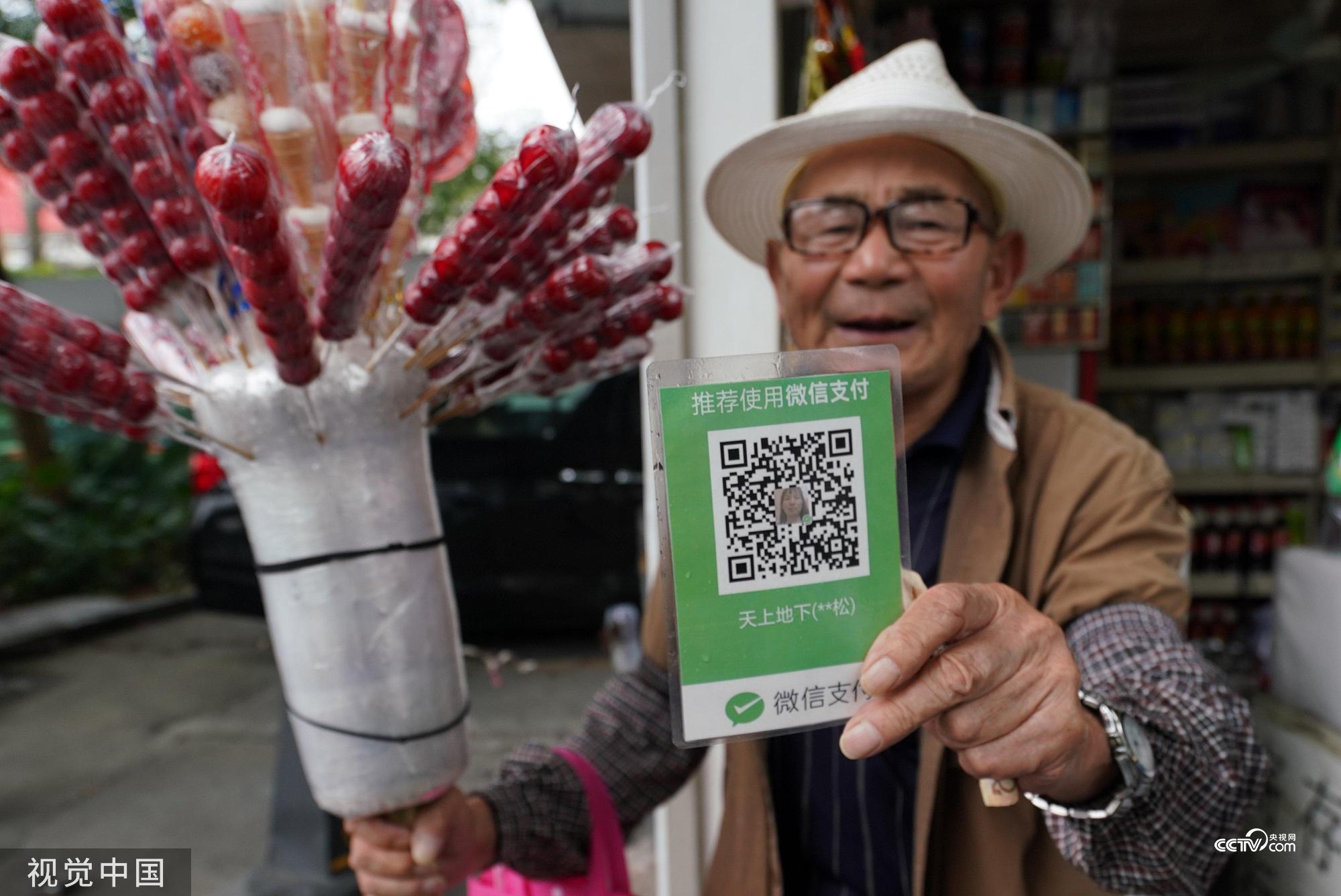 An elder vendor shows a WeChat Pay quick response code.