By Tom McGregor
For the overall public safety of China and the rest of the world, the Wuhan lockdown has become a necessity and if Chinese officials had chosen to shun quarantine measures, the spread of the coronavirus would have been far more devastating. The quarantine has inconvenienced all Wuhan residents but there was no other method to combat it. The metropolitan area of Wuhan and Hubei Province are centrally located in the country. All other major Chinese cities have close inter-connections with Wuhan and its surrounding provincial satellite towns and villages. Wuhan is to China as Chicago is to the United States of America in terms of their geography and status. Chicago and Wuhan are officially recognized as 'Sister Cities.'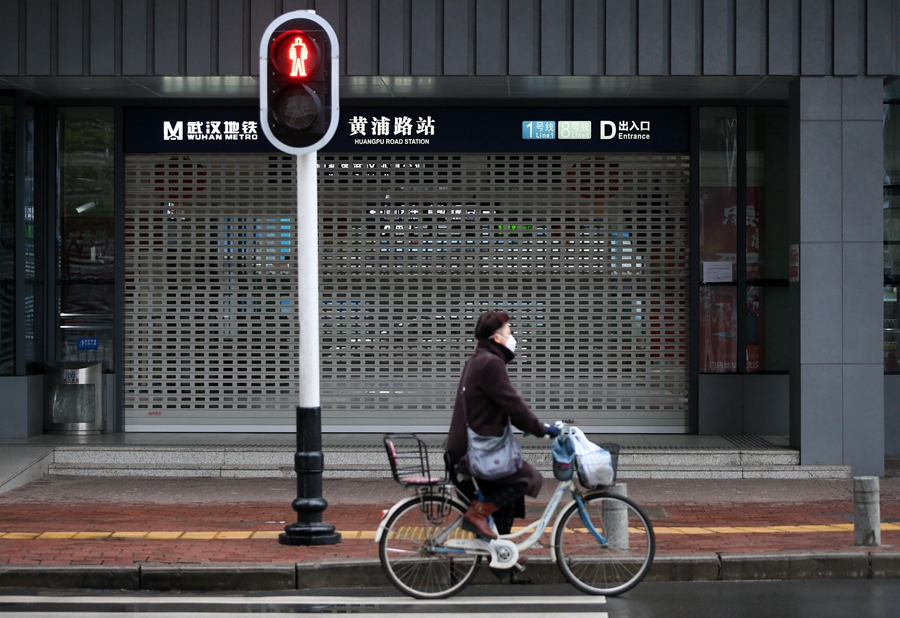 A resident rides by the closed Huangpulu Subway Station in Wuhan City on January 25, the 2020 Chinese Lunar New Year.
But before the outbreak, only a few westerners had known or heard about Wuhan. The city had garnered little recognition outside of China, since it was overshadowed by Beijing, Shanghai and Shenzhen. Nonetheless, Wuhan's population at over 11 million is still higher than that of Los Angeles County. The city of Wuhan has focused on boosting its services in the fields of education, science-technology and serving as a prime national logistics center for the agricultural and manufacturing sectors. Therefore, Beijing's decision to quarantine Wuhan did not come lightly as the measures would have a deep impact on nationwide supply chains, scientific studies, hi-tech developments and so much more. Nevertheless, the grave potential for the coronavirus to emerge as a global pandemic stood very high and that could have resulted in hundreds of millions of people getting infected worldwide, while the mortality rate is in the 2 to 3 percent range. Consequently, the possibility of over 10 million people dying from it was not a joking matter. Without enforcement of the Wuhan lockdown, local residents could have posed a threat to public safety if they had flown on airplanes, took trains or traveled across China or go overseas. Just imagine the catastrophe. Hence, the quarantine is saving lives not only in China, but throughout the world. Public safety should come first in regards to tackling pandemics and the World Health Organization (WHO) has already declared it an "international health emergency." Beijing had no other choice but to impose a strict lockdown on Wuhan. Some critics are complaining about how local law enforcement authorities have enacted the quarantine in Wuhan, but if those same naysayers were infected by the coronavirus, they would be cursing China to their last dying breaths if Beijing never called for a lockdown there. It's a "damn if you do or damn if you don't" scenario. Better to be safe than sorry. Let's take closer look at how the virus is impacting Wuhan and elsewhere.
Tedros Adhanom Ghebreyesus, the director-general of the WHO, reiterated that: "Stopping the spread of this virus both in China and globally is the WHO's highest priority."
Apparently regardless of the lockdown, all provinces, municipalities and autonomous regions in China have reported cases of coronavirus. Yet it appears to have been inevitable since Wuhan officials had not implemented the quarantine until after this year's Spring Festival travel rush went into effect. It is believed that over 5 million residents from Wuhan had returned to their rural hometowns and unwittingly could have placed their family members in danger. We can only hope and pray that the deadly and contagious virus can burn out soon and when it occurs Wuhan can return back to normal.
The views do not necessarily reflect those of the CCTV. com.