By Tom McGregor
Since the Coronavirus outbreak, people usually think about their real chances of getting struck by the virus. I will address my response to persons who think about it. Do you live in Wuhan, Hubei Province or China at this moment? Have you had any contact with a person diagnosed with the virus? Have you checked your body temperature or noticed having related symptoms?
Well if you answered yes to any of the questions listed above, it is understandable to succumb to panic attacks. Yet if you are living in a low risk area for getting infected, such as living outside of Asia, not coming into contact with a person who visited China in recent weeks, not meeting an infected patient, you are safe and healthy. If you are in a low risk category, it seems strange to have panic attacks.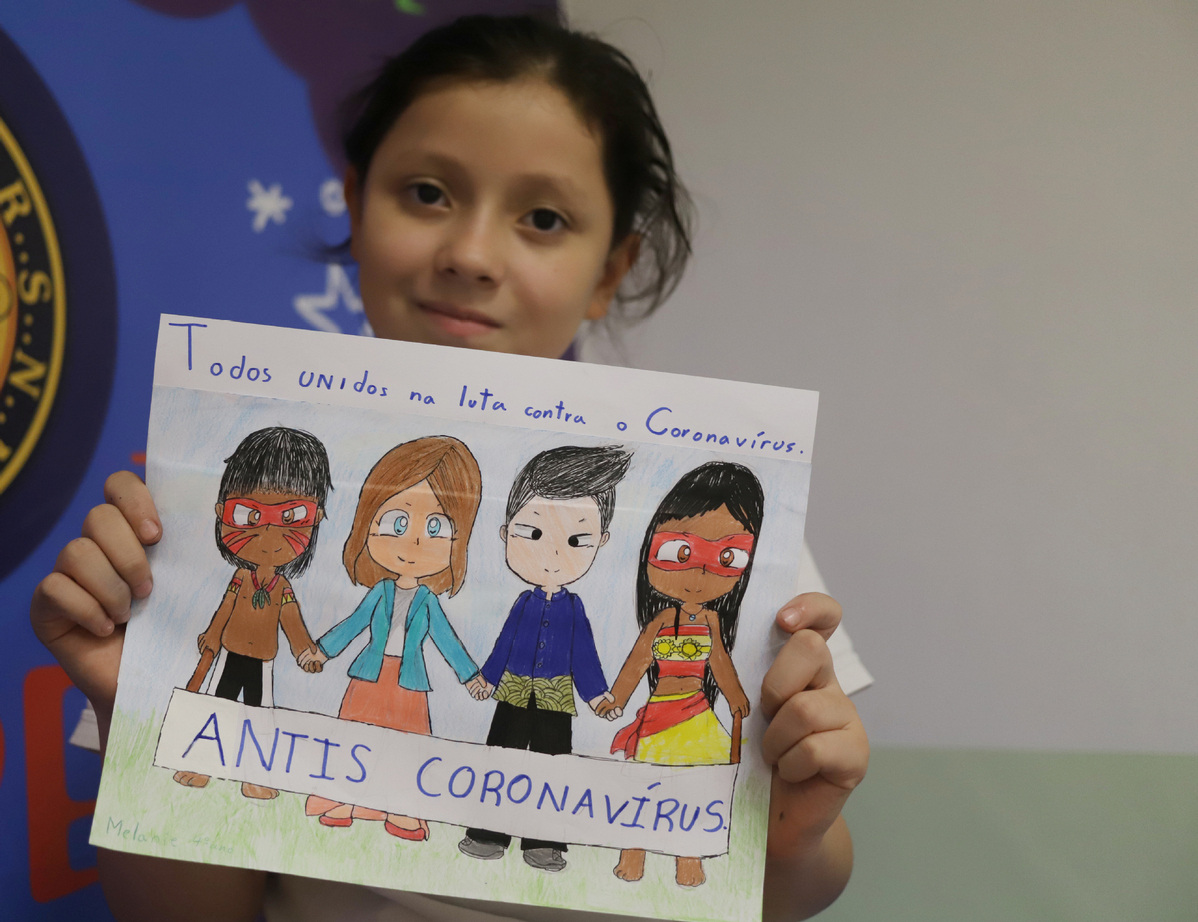 A 9-year-old girl holds a painting sending best wishes to the Chinese people in their fight against the novel coronavirus in Sao Paulo, Brazil on February 7, 2020. (Photo from Xinhua)
There could be other psychosomatic reasons for your panic attacks. Have you ever been diagnosed with paranoia, social anxiety or hypochondria? Those with such ailments are often prone to excessive worrying, which may require treatment from a licensed psychiatrist or psychologist.
When I was younger I had problems with depression and high anxiety, making it very hard to go to sleep at night and that had impacted my daily affairs, social relations, as well as concentrating on my studies and job duties. I was fortunate to discover that I had a talent for writing and to analyze events with a logical mindset, which helped me to overcome my prior mental challenges.
From my experiences, I advise you to make your best efforts at trying to lead a normal life, fulfilling the tasks and responsibilities that people expect from you, but if panic attacks continue on you may need medical assistance and there's no shame in that. Such panic attacks are not under your mind control and it's a sickness that is just like when a person breaks a leg. You can't expect them to walk normal until the leg recovers. Your mind needs healing here.
People dealing with high anxiety prefer hobbies that are solitary, such as writing, reading, art and hiking. That gives them more peace of mind. A good idea is to go on long walks to calm down and you should avoid getting obsessed over the coronavirus unless you are directly impacted by it.
You can also search for positive stories about the coronavirus to keep your mind at ease. The Chinese had completed building a 1,000 bed hospital in just 10 days in Wuhan. The website France 24 reports:
"A team of 7,000 carpenters, plumbers, electricians and other specialists worked around the clock to build the Huoshenshan hospital, Chinese state media said, with construction beginning on January 23 and completed on Sunday (Feb. 2).
The hospital, which will be staffed by around 1,400 army medics dispatched to Wuhan, began treating its first patients on Monday (Feb.3)."
When a major epidemic outbreak strikes, we should all take preventative steps to avoid infections, such as improving our hygiene habits and wear face masks outdoors. It's better to stay at home and to stay away from public places but if you are living outside Asia there's still low risk of infection. Best to stay calm, since you can't control what you can't control.
The views do not necessarily reflect those of the CCTV. com.