Abu Dhabi has stepped up to bail out neighboring Dubai with a surprise $10 billion aid package for the debt-laden Dubai World.
The move has pushed stock markets up, but Dubai says creditors still need to approve a standstill on outstanding debt.
Dubai says $4.1 billion of the money received from Abu Dhabi is allocated to property developer Nakheel to repay its Islamic bond which matures on Monday. Nakheel says it will repay the bond over the next two weeks.
A Dubai government statement says the excess funds will be used to help government-controlled holding company Dubai World, which has asked creditors to agree to restructure 26 billion U.S. dollars of its debt, up until the end of April 2010.
Dubai's benchmark stock index led a surge on regional markets, jumping more than 10 percent, while Abu Dhabi rose 7 percent in early trading.
Abu Dhabi is the largest member of the United Arab Emirates federation and a big oil exporter.
Dubai has also announced a new bankruptcy law that it says could be used in case Dubai World and creditors failed to reach an agreement on debt maturing in the future. The Dubai government source says the law, which will be in effect from December 14, could allow Dubai World to file for bankruptcy if its restructuring was not successful.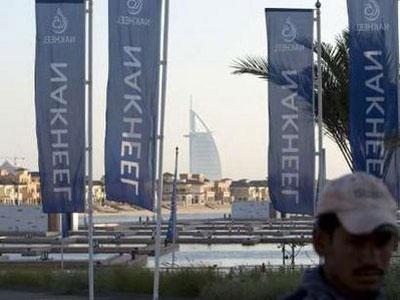 Nakheel company flags fly on Palm Jumeirah with Burj Arab in the
background in Dubai December 14, 2009.REUTERS/Steve Crisp
Editor: Zhang Pengfei | Source: CCTV.com