Shanghai World Expo series 1: China's National Pavilion
2010-02-21 10:56 BJT
Special Report: Shanghai World Expo 2010 |
The 2010 Shanghai World Expo is just two and a half months away. What's new for the upcoming event? And what can we expect? Starting today, BizChina will bring a 10-part series giving you a glimpse of the expo.
Today we'll look at China's National Pavilion. We'll reveal the INNER DESIGN of the building, since many of you are already familiar with the facade. How have the designers interpreted the theme of "Chinese wisdom in urban development?" Will it live up to expectations?
The National Pavilion of China is designed in the shape of an Oriental Crown. It features the Forbidden City Red, the color that represents the taste and spirit of Chinese culture. The final interior design was selected from 17 plans from home and abroad. Under the theme "Chinese wisdom in urban development", designers will showcase the wisdom of the Chinese people in urban construction from ancient times to the future in the three-story building.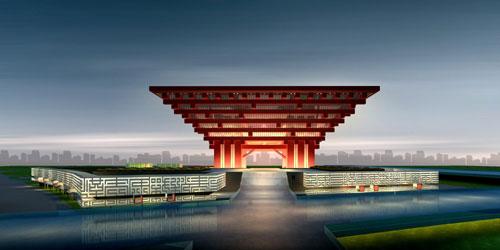 Artist's rendition of the China's National Pavilion. (expo2010.cn)