Today, March 15th is World Consumer Rights Day. This year's theme is "Our Money, Our Rights." China Consumers' Association is this year launching a variety of activities under the theme "Consumption and Services."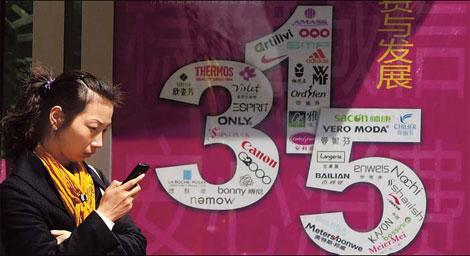 A woman stands before a billboard advertising the annual World Consumers Rights
Day on March 15 together with dozens of international brands.
More supervision on appliance quality
China's State Administration for Industry and Commerce has pledged to step up supervision on the rural commodity market. Full Story>>

Stronger auto quality management
China's Ministry of Information and Technology has issued guidelines urging the nation's auto producers to establish accountability mechanisms to improve quality management. Full Story>>
The General Administration of Quality Supervision, Inspection and Quarantine recently issued a notice regarding the recall of the Chevrolet Captivas. The notice says the steering system on the car is defective. Full Story>>
Toyota's global recalls have damaged its reputation and dampened sales around the world. In Beijing, prices of second-hand Toyota vehicles are falling.Full Story>>

Consumers complain about HP notebooks
Chinese lawyers filed a complaint on behalf of more than 170 consumers against PC giant Hewlett Packard. They are requesting the government order a recall of allegedly faulty notebook computers. Full Story>>
60% imported clothing unqualified in Zhejiang
The quality of imported clothing in China is not satisfying. The administration for industry and commerce in Zhejiang Province has announced that nearly 60 percent of the imported clothes are not qualified in its sample test. Full Story>>

Editor: Du Xiaodan | Source: CCTV.com