Austrian pavilion at Shanghai Expo
2010-04-06 08:41 BJT
Special Report: World Expo 2010 Shanghai |
Elisabeth of Bavaria, also known as Sissi, was the adored Empress of Austria in the mid to late 19th century, whose elegance and sophistication were brought back to life on the silver screen. If you are a fan of this extraordinary woman, there is one place at the Shanghai World Expo worth visiting: the Austrian Pavilion. The central European country has unveiled overall plans for how its taking part in the Expo, including the display of many of its national treasures.
Sissi release in 1955, Princess Elisabeth in Bavaria depicts the beautiful and legendary love story between the Princess Elisabeth in Bavaria and the Austrian King Franz Joseph. It also tells how Sissi, with her intelligence and charming personality, win the support for the Austro-Hungarian Empire from neighbor countries. If you are a fan of Sissy, well, you may have the chance to take pictures with her in the Austrian Pavilion in THIS YEAR'S Shanghai Expo. The Austrian organizers say they will select the country's most beautiful and similar-looking girl to act Sissi.
Beside, you could also have interaction with other Austrian celebrities, such as Mozart and Johann Strauss. The Blue Danube, a waltz by Johann Strauss II, debuted in the World's Fair in Paris in 1867 and scored a massive smash in the 1973 Vienna World Expo.
All these with other interesting programs will be seen the 2,000 square meter Austrian Pavilion for the expo. Their theme is "Austria - Feel The Harmony." For more information, let's hear what Madam Birgit Murr, Vice Commissioner General of the Austrian Pavilion will tell us.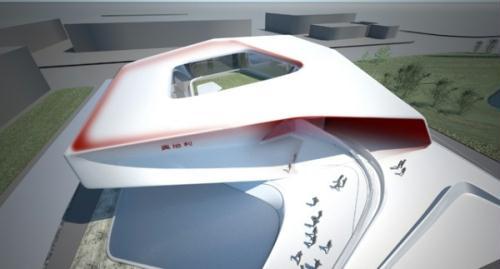 Bird's View: The gradient coloration of the porcelain facade covers the entire
building.
Related stories