World Expo passes 2nd trial day
2010-04-22 09:00 BJT
Special Report: Shanghai World Expo 2010 |
Wednesday marked the second day of trials for operations for the Shanghai World Expo facilities. Around 50 thousand visitors came to the park, with ticket handling, security and food and beverage sales all running smoothly.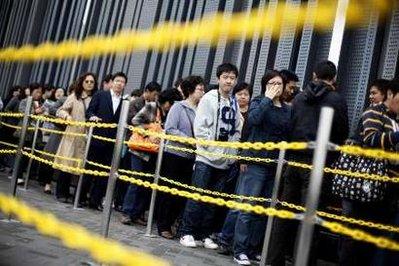 Visitors wait to enter the Shanghai World Expo site April 21, 2010.
The expo started trial operations on Tuesday with the
participation of about 70 percent of the pavilions, Xinhua News
Agency reported. China is the first developing nation to host the
World Expo and officials hope the event, held from May 1-Oct 31,
will improve Shanghai's position as a global city.REUTERS/Aly Song
(CHINA - Tags: SOCIETY BUSINESS)
Visitors began entering the exhibition park after 9 am. It didn't take long to get through security checks as the number of visitors was much less than on Tuesday. Maps of the park are available at the entrance for free. Many visitors didn't go directly into pavilions, they came instead, to book time at some popular pavilions.
A visitor says, "I've spent 20 minutes trying book time for the China Pavilion."
Tuesday, the first testing day for the expo, around 200 thousand enthusiastic visitors flocked to the site, and some complained of the inconvenience of traffic and dining. Restaurants in the park are preparing to serve large number of visitors.
Gao Ming of restaurant employee says, "We didn't expect as many visitors in the first day. We were short of cooking materials. We will prepare more materials to ensure good service."
The exhibition which opens May 1st, will draw an estimated 70 million visitors.
Related stories