China, Ecuador pledge greater cooperation
2009-11-25 16:51 BJT
Special Report: Jia attends WCEC, visits 4 nations |
China's top political advisor, Jia Qinglin, is in Ecuador, where he's met President Rafael Correa, in the capital Quito.
Both sides promised to enhance cooperation. Jia Qinglin noted China and Ecuador will mark 30 years of diplomatic ties next year. He expressed hopes for making the most of the occasion. Correa stressed that developing ties with China is a strategic decision.
The two leaders also witnessed the signing of documents on economic and technological cooperation. Jia Qinglin attended the opening of the China-Ecuador Entrepreneurs Symposium on Investment Cooperation. He hailed the rapid growth of commercial ties. Bilateral trade volume reached nearly 2.4 billion US dollars last year, up 400 times from the 1980s.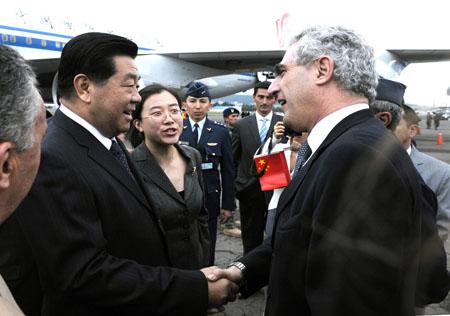 Jia Qinglin (L), chairman of the Chinese People's Political Consultative
Conference (CPPCC) National Committee, is welcomed by Ecuadorian officials
upon his arrival in Quito, Nov. 23, 2009. Jia kicked off his official
good-will visit to Ecuador.(Xinhua/Fan Rujun)
Editor: Liu Anqi | Source: CCTV.com