Taiwan A/H1N1 vaccination begins
2009-11-18 09:28 BJT
Special Report: World tackles A/H1N1 flu |
Taiwan's second round of vaccination against the A/H1N1 influenza began Tuesday. In order to boost public confidence in the locally-produced vaccine, local officials took the lead in receiving shots.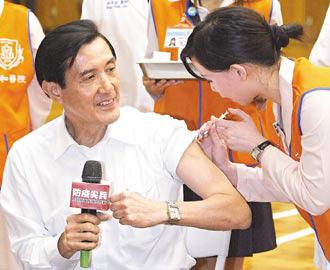 Taiwan leader Ma Ying-jeou receives A/H1N1 flu vaccine
shot
The leaders include the director of the island's Epidemics Command Center, Chu Li-lun, the chief of the health authority, Yaung Chih-liang, and Taiwan leader Ma Ying-jeou. This round of vaccination is targeting pregnant women, children older than one, and seriously ill patients.
Taiwan already vaccinated all its medical staff, children aged between 6 months and a year, and people displaced by Typhoon Morakot.
Related stories