Construction begins on Delta Bridge
2009-12-16 07:58 BJT
Special Report: Macao 10 Years On |
China has begun construction of the world's longest cross-sea bridge, linking its southern economic hub of Guangdong Province to Hong Kong and Macao. Vice Premier Li Keqiang attended the ceremony in Zhuhai to launch the project.
Together with delegates from Hong Kong, Macao, and local citizens, Vice Premier witnessed the historic moment.
Li Keqiang says this is a move for Hong Kong, Macao and the Pearl River Delta region to cope with the global economic downturn, boost investment and inspire people.
The project is considered a model of cooperation between the mainland and Hong Kong and Macao in the field of infrastructure construction.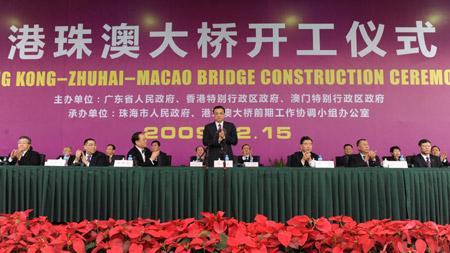 Chinese vice premier Li Keqiang(C) attends the inauguration ceremony of
Hong Kong-Zhuhai-Macao bridge, the world's longest cross-sea bridge, in
Zhuhai, south China's Guangdong Province, on Dec. 15, 2009.
(Xinhua/Huang Jingwen)