Vice President Xi calls for closer ties
2009-12-16 08:09 BJT
Special Report: Xi Visits 4 Asian Nations |
Vice President Xi Jinping says China and Japan need to continue exploring new areas to expand bilateral trade. He made the call while attending a breakfast Tuesday morning held in his honor by Japanese enterprises in Tokyo.
Xi Jinping says the two economies are facing new opportunities to find long-term prosperity while the world gradually recovers from the global financial crisis.
He noted there is a lot to do to boost the sustainable development of the two economies. He singled out some prominent sectors in which to enhance cooperation, including energy, environmental protection, low-carbon economy as well as recycling economy. He also stressed that China hopes the business community in Japan can play a constructive role to facilitate the building of a free trade zone covering China, Japan and South Korea.
Xi Jinping met with Japanese Emperor Akihito at the Imperial Palace Tuesday. Both agreed that Xi's visit would further promote friendly relations and cooperation between the two countries.
Also on Tuesday, Xi Jinping met with the speaker of the House of Representatives, Takahiro Yokomichi, and the President of the House of Councilors, Satsuki Eda, to discuss the role of parliamentary communications.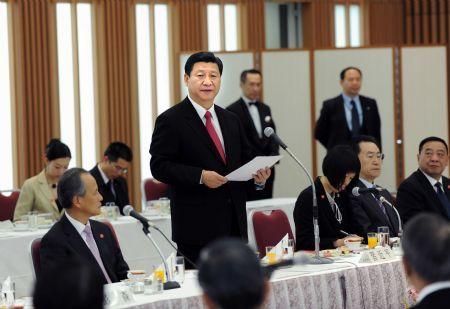 Visiting Chinese Vice President Xi Jinping addresses a breakfast meeting
hosted by Fujio Mitarai, chairman of the Japan Business Federation (JBF)
in Tokyo, Japan, Dec. 15, 2009. (Xinhua/Li Tao)
Editor: Liu Anqi | Source: CCTV.com