Challenges for new chief executive & team
2009-12-21 09:40 BJT
Special Report: Macao 10 Years On |
Macao SAR's Chief Executive Fernando Chui Sai On and his new team have been sworn in for a five-year term. For Chui, this will be his first full term as Chief Executive, and the third for the special administrative region since 1999. He's promised to bring Macao continued prosperity, with an eye to the challenges of the future.
Leong Wai Kei, Macao resident, said, "I hope Chui Sai On could do as good a job as the former Chief Executive Edmund Ho Hau Wah."
Mr. Chou, Macao resident, said, "Tourism is booming in Macao, but I hope Macao should have its own quality brands, rather than mainly rely on the gaming industry."
Fernado chui Sai On said, "The SAR Government has attached great importance to the education of the younger generation the core spirit of loving the motherland and Macao."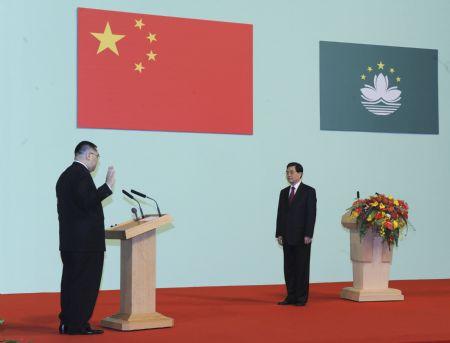 Chinese President Hu Jintao (R) administers as Fernando Chui Sai On (L)
is sworn in as the Macao Special Administrative Region (SAR) Chief
Executive in Macao SAR of south China on Dec. 20, 2009.
(Xinhua/Li Xueren)