French Prime Minister Francois Fillon, has arrived in Beijing for a three-day visit. His trip is aimed at expanding trade between France and China, especially in the production of nuclear energy.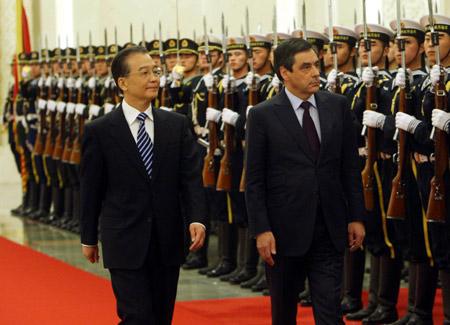 Chinese Premier Wen Jiabao (L) holds a welcoming ceremony for French Prime
Minister Francois Fillon (R) at the Great Hall of the People in Beijing,
capital of China, Dec. 21, 2009. (Xinhua/Liu Weibing)
Premier Wen Jiabao welcomed the French Prime Minister to China.
The Premier says both China and France have agreed to expand their strategic partnership on the basis of equal treatment and mutual respect. Fillon says China and France have a long friendship dating back more than 40 years and should work to improve the relationship.
Later on Monday, Vice Premier Li Keqiang and Francois Fillon announced that construction had started on the Taishan nuclear power plant, a Sino-French project in China's southern province of Guangdong.
Chinese Vice Premier Li Keqiang said, "The project plays a very positive and important role in promoting the use of advance nuclear technology between China and France. It strengthens bilateral trade and pushes forward the development of overall bilateral relations."
The French Prime Minister also highlighted the significance of the cooperation.
French Prime Minister Francois Fillon said, "I wish to highlight the importance of these agreements, because I think our nuclear cooperation is rooted in both our republics' aim to value technological innovation and energy independence, these agreements also are a proof of the solid relations between China and France."
The project is a part of an 11.9 billion dollar deal signed in 2007 when French President Nicolas Sarkozy visited China. Under the agreement, France's Areva Group will sell two nuclear reactors to China Guangdong Nuclear Power Corporation and provide uranium to fuel the reactors until 2026.
The French Prime Minister will also meet with President Hu Jintao and the top legislator Wu Bangguo, during his three-day visit.