A short ceremony has taken place at the newly built Wuhan Railway Station, to launch the official start of China's first high-speed passenger railway. The service links Wuhan, the capital of Hubei Province and Guangzhou, the capital of Guangdong Province, cutting travel time between the two cities from ten to three hours.
Hu Li, Reporter of Wuhan TV, said, "Right now, I am standing on the No.1 platform of the newly built Wuhan Railway Station. In 3 minutes, I will get on the train with 1,200 other passengers and head for Guangzhou city, 1,068 kilometers away. It's a three hour journey, so let's experience China's first High-speed Railway together."
The carriage is crowed with passengers who came to experience the very first High-speed railway in China. Liang Ningyang is a railway fan and a member of a website -- railway-online. com. He and his friends met in Wuhan from various parts of China to experience the Express Train.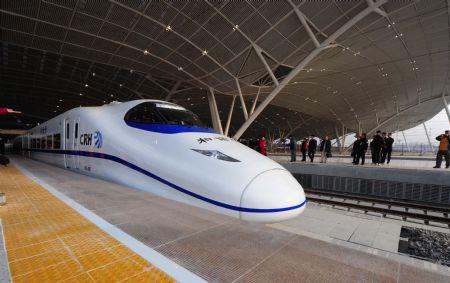 A high-speed train runs out of the Wuhan Railway Station in Wuhan, capital
of central China's Hubei Province, Dec. 26, 2009. The Wuhan-Guangzhou
high-speed railway, which boasts of the world's fastest train journey
with a 350-km-per-hour average speed, is debuted on Saturday.
(Xinhua/Cheng Min)