Severe sea ice threatens China's east coast
2010-01-15 08:36 BJT
Special Report: Snowy Northern Hemisphere |
The severe cold snap has also wreaked havoc at sea. The worst sea ice in 30 years is threatening ships and the livelihood of fishermen on China's east coast. Helicopters are trying to rescue stranded crews, while icebreakers are struggling to keep sea lanes open.
The floating chunks of ice extends 110 kilometers off the coast of Liaodong Bay. Worse still, the frozen surface in the northern part of the Yellow Sea is expanding rapidly.
All Chinese ships working at Laizhou Bay were lucky enough to find a place to anchor. 16 foreign ships are having trouble reaching their destinations. A Russian boat has been stuck in the frozen sea for more than seven days. Their food and fuel have run out. Border staff navigated through strong winds to bring supplies to the crew.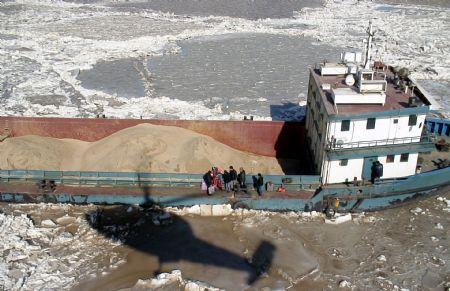 The video grab taken on Jan. 13, 2010 shows a helicopter from Chinese
North Sea relief flight team arrives at the location where a ship with
6 crews was trapped by sea ice off the coast of Binzhou City of east
China's Shandong Province. The 6 crewmen were rescued safely on Wednesday.
(Xinhua Photo)