Tibetans celebrate year of Iron Tiger
2010-02-16 08:36 BJT
Special Report: 2010 Spring Festival |
The year of Iron Tiger in the Tibetan calendar began on February 14th this year, the same date as the Chinese Lunar New Year. The Tibetan people's celebrations feature unique customs.
At a local community in the city of Lhasa, residents have decorated their doors with curtains and scarf-like hadas to signify good fortune.
It took the residents 15 minutes to draw special patterns on the ground with powders made from highland barley.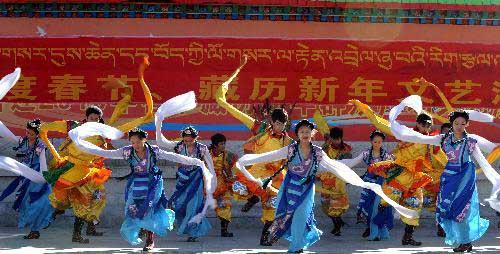 Dancers perform at the Longwangtan Park for the lunar New Year of the Tiger
according to the Tibetan calendar, in Lhasa, capital of southwest China's
Tibet Autonomous Region, Feb. 14, 2010. (Xinhua/Gesang Dawa)