Another cold snap has hit northern China. Heavy snow has disrupted transport systems in Xinjiang, Inner Mongolia and northeastern provinces.
Just as most people in Heilongjiang were thinking their harsh winter was over, a severe snow storm hit the northeastern province.
Out of the 5 major expressways linking the province to the rest of the country, four are closed and the remaining one saw at least 6 traffic accidents overnight. More than 200 long distance buses have been suspended and many trains have been postponed indefinitely.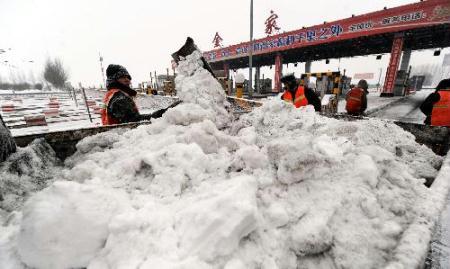 Workers clear snow at Harbin-Tongjiang Road near Harbin, capital of
northeast China's Heilongjiang Province, Feb. 24, 2010. Most regions in
Heilongjiang witnessed heavy snow since late Feb. 23 and three of five
expressways in the province have been closed. (Xinhua/Li Yong)