27 people have been rescued from an iron ore mine in western China's Xinjiang Uygur Autonomous Region, one week after they were trapped by avalanches.
After 6 days, the road to the Songhu Iron Ore mine in Nilka County, was finally cleared.
Last week's avalanche killed a family of 3, while trapping another 27. But everyone breathed a sigh of relief after the remaining survivors were all rescued on Monday.
Du Rongxia was buried by the avalanche but was luckily saved. Being trapped for days came with many sleepless nights.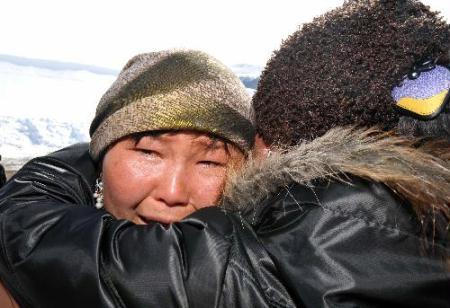 A pregnant woman embraces a relative of hers after arriving at a safe
place in northwest China's Xinjiang Uygur Autonomous Region, on March
1, 2010. Three women, one of them 6-month pregnant, who were trapped by
avalanche in Kunes Township, Hejing County of Bayingolin Mongolian
Autonomous Prefecture, were tranferred to safe area by helicopters Monday.
(Xinhua/He Zhanjun)