The worst in mother nature has brought out the best in human nature in the drought-ravaged Guangxi Zhuang Autonomous Region. People are helping neighbors and friends survive the dry spell by sharing water, while others are repairing bumpy roads so vehicles can deliver water to remote areas.
Even in trying circumstances, people living in this drought-hit village in Guangxi don't forget to share.
Chief of Liwang village Wei Guineng said, "I can only fill my bucket half-way, because there isn't enough water to go around for everybody. If I fill it entirely, there won't be enough water for the people behind me."
And the water is shared again when it arrives at villagers' homes.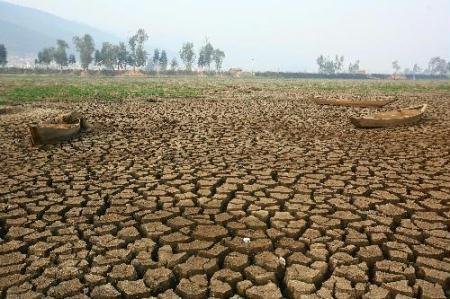 Boats are seen stranding on crackled bed of the Chirui Lake in Shiping
County, southwest China's Yunnan Province, March 24, 2010. The sustaining
severe drought ravaged this region since last October and made no harvest
of crops. (Xinhua/Hu Yanhui)