Capsule apartments have emerged at the 2010 Spring Real Estate Fair this week in Beijing. The new living spaces have attracted many people's attention. Some say that they meet the demands of graduates who are not rich enough to rent a bigger suite. Others have different views.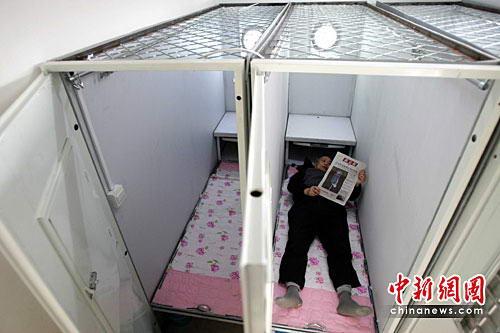 A capsule apartment got its name for its small size.
A capsule apartment got its name for its small size.
Each unit is less than 2 square meters and can only fit a single bed.
Compared with other exquisite housing models, the capsule apartment seems to go against the grain.
Huang Rixin is the designer and owner of the capsule apartments in Beijing.
"Those who earn one thousand to one and a half thousand a month can't afford the rent for a single room, which may be 600. So I took out the money I saved over more than two years to build the capsule apartments. I hope it will be accepted by the public, and that the government will consider this issue and take it as a method to solve the housing problem of the floating population in the city." said Huang.
The 72-year-old retired engineer built 8 units of capsule apartments in Beijing. The monthly rent for each unit is between 200-250 yuan.
Huang opened up the apartment units for "test-living" and had its first tenant, 25-year-old Zhang Qi.
The young lady has worked in Beijing for five years with a monthly salary of over three thousand yuan. She wants to save more money to help her family.
Zhang says that the only inconvenience is the toilet and shower, because the bathroom is not on the same floor. But she felt she can overcome this if others can.