Chinese visitors slide their way to a Disney-themed ice park in Harbin, as the northeastern city gears up for its spectacular annual International Ice and Snow Festival.
Harbin is the frozen capital of China's northern Heilongjiang province, and on Tuesday, its annual ice and snow festival officially kicks off.
Unable to wait for the opening, locals and tourists alike are already enjoying the glittering ice sculptures, and braving temperatures way below zero at the Disney Ice Festival.
Mu Yongsheng, a tourist from neighboring Jilin province, was happy to have finally made it to Harbin for the festival.
Mu Yongsheng, tourist, said, "It's feels sacred. One of the most sacred cities in the east and I've never come before. It's my first time seeing so many beautiful ice sculptures and lanterns. But this year is really cold, really very cold."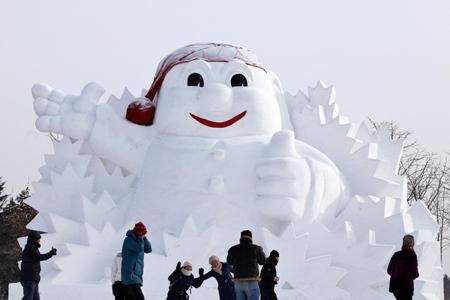 Tourists pose near a snow sculpture during the 26th Harbin International
Ice and Snow Festival at a park in Harbin, Heilongjiang province, January 5,
2010.[Photo/Agencies]