Only a week after a pastel from Degas vanished from a museum in Marseilles, works by Pablo Picasso and post-impressionist Henry Rousseau have been stolen from a private villa in the south of France. A judicial source says the haul was worth about 1 million euros.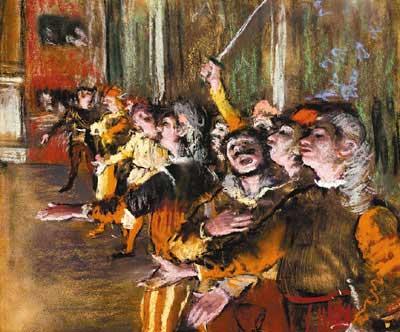 "The Chorus", by Degas, shows a group of singers performing on a
theatre stage
The theft was discovered on Thursday by a caretaker at the house in the village of La Cadiere d'Azur. It is the second major art robbery in the country in less than a week, although there is no indication the two crimes are linked.
A 19th century pastel "Les Choristes" by impressionist Edgar Degas was stolen from the Cantini Museum in Marseilles a week ago. The piece is worth an estimated 800-thousand euros.
Damien Leclere, auctioneer, said, "There are many ways to estimate the price of an artwork. Mainly we compare similar artwork which has been sold recently, or other works from the same artist. But also pieces that use the same technique, topic, size, or period. After comparing all these aspects step by step, we get what we call the rate of a painting, an artist. The painting was estimated at around 800-thousand euros by the insurance company and the museum."
The item was on loan from the Musee D'Orsay, in Paris, as part of an exhibition of Degas' work which was due to come to an end on January the 3rd and then travel to Italy and Canada.
Daiel Hermann, deputy mayor of In Chare of Culture City of Marseilles, said, "The ways they have been operating are very different. For the museum, there was no break in. I think they were real professionals. For the private house they cut out the paintings, which is very harmful for the artwork. That tells us they were not real professionals. I cannot link the two robberies. It is true that there is a series of robberies in the Cote D'azur and this is very disturbing."
These incidents come just a month after the scandal at the prestigious auction house Drouot and causes deep concern in France for the illegal trade in works of art.
An auctioneer and eight commission agents have been placed under investigation for organized theft. Police made the move after they discovered a painting at an employee's home last December by the French realist Gustav Courbet which was stolen in 2004.
Editor: Liu Fang | Source: CCTV.com