People love acrobatics, stunning as always. Equally stunning is the multi-role of "the spy next door". Part spy, part baby sitter, but all hero. That's what Jackie Chan presents for "The Spy Next Door", an action comedy for the whole family. Let's get a preview before the film hits cinemas around the globe on Friday.
"The Spy Next Door" centers on Bob Ho, played by Chan, who is asked to baby-sit his neighbor's three children. The naughty kids accidentally download a secret code forcing Bob, an actual undercover agent, to protect the kids using super Kungfu. The character is not new for the action superstar who played a similar role in the Hong Kong film "ROB-B-HOOD" in 2006.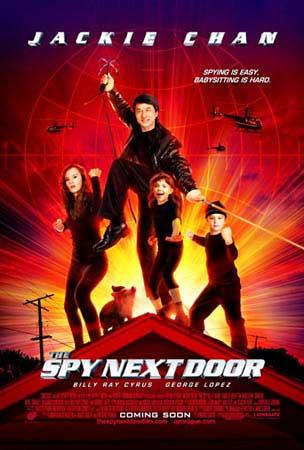 Poster of "The Spy Next Door"
"The Spy Next Door" also stars George Lopez as a CIA agent who might not be all that he appears, while Billy Ray Cyrus is another agent. Amber Valletta plays the kids' mom, and Katherine Boecher plays a Russian underworld operative. All are under the direction of Brian Levan of "Snow Dogs" and "Are We There Yet".
The high-flying family action comedy will be released in cinemas on Friday.
Related stories
Editor: Liu Fang | Source: CCTV.com