"Luoguxiang", or "Gong and Drum Lane " is a new TV drama that has just hit the small screen around China. Beginning with the theft of a item of national treasure, the drama is peppered with greed, revenge, and romance.
More than forty characters appear in the TV drama. But the most noticeable is the pair of veteran actors Wang Gang and Liu Wei. The two present an absorbing battle of wits.
Liu Wei has appeared less on the screen in recent years. But he said this drama brought back the joy of acting again.
Liu Wei said, "I don't care whether the TV drama's rating is high or not. I have enjoyed playing my character, and cooperating with my friends. Everyday was fun when we were shooting the play. That's enough for me."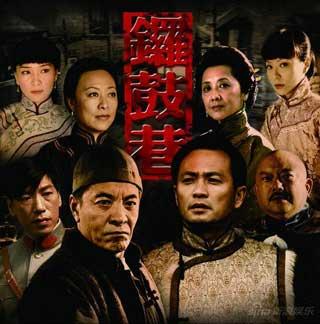 Poster of TV drama "Luoguxiang"
Set in the late Qing dynasty, the drama tells how an official from the imperial cultural relics department tries to protect and retrieve a priceless gold Buddha statue.
Wang Gang, whose fame as an amateur connoisseur of curios earned him the lead role, contributed much to the show. Many A-list actors from the Chinese mainland also lent their star powers.
Although the background of the story is the old Beijing city, "Gong and Drum Lane " doesn't stick to typical Beijing flavor. The producer has intended to raise the profile of the drama in southern regions of China by starring Hong Kong actors Roy Cheung and Joyce Tang.
Above all, the drama is a legendary story that underlines a people's determination to preserve their cultural legacy.
Editor: Liu Fang | Source: CCTV.com