A 52-episode cartoon series of "Monkey King" hits the airwaves on CCTV-1 Monday. The series, which took three years to produce, is the fourth full-length cartoon programme aired on CCTV.
The cartoon series centers on the fictional figure Monkey King. He overcomes a string of setbacks and obstacles to fulfill himself and achieve his goals with the help of his friends. The series is exquisitely produced, with plenty of 3-D technologies and stunning visual effects.
Monkey King is a well known figure in "Journey to the West", one of four classic novels in China written hundreds of years ago. The cartoon adaptation enriches the storyline by adding new faces and scenarios.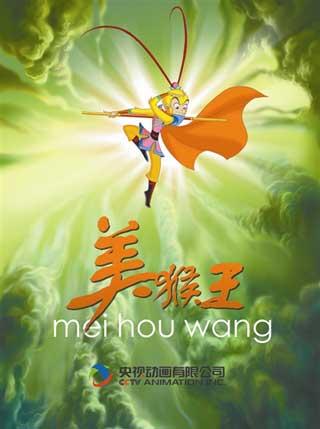 Poster of the cartoon series "Monkey King"
Wang Ying, general manager of CCTV Animation Co. Ltd, said, "This animation is based on the novel 'Journey to the West', but it's not merely a mere cartoon duplicate. You'll experience new adventures of Monkey King in the show, which we hope kids today will find dear to their hearts."
The pilot show of the cartoon series "Monkey King" was broadcast last year, gaining an impressive audience rating of 2.12 percent. Learning from the experience slight changes were made to "Monkey King" to cater to the different tastes of children.
The Cartoon series "Monkey King" was honored with the Golden Panda Award at the 10th Sichuan TV Festival. It was chosen as one of the most outstanding China-made cartoon programmes of 2009 by the State Administration of Radio, Film and Television of China.
Related stories
Editor: Liu Fang | Source: CCTV.com